Thank you for making plans to join us in the Beanstalk Children's Garden this Saturday evening for Gardens at Sunset!
Please take note of the following information and tips, so you can enjoy the evening to its fullest:
Parking
Parking along Kensington Avenue is limited, and typically fills quickly. For the easiest parking experience, we suggest that you park at one of our two shuttle lots, located at Lakeside Nature Center (4701 E. Gregory Boulevard), or along Elmwood Avenue (just north of Gregory, adjacent to the baseball fields). Free shuttle service will run in 5 minute intervals throughout the evening.
A limited number of parking spaces will be reserved for guests with limited mobility (please note that shuttles are not ADA-friendly). Please call us ahead of time at 816-912-3699 if we can assist with special parking accommodations.
Gardens at Sunset is a relaxed, casual evening in the garden – so plan to be comfortable! Most of our guests enjoy the evening in dressy casual attire. Our garden and orchard pathways are made of paver stone and crushed granite, and picnic tables will be located in grassy areas. Pick a pair of comfortable shoes and grab an extra layer so you can enjoy the evening all the way through sunset.
Gardens at Sunset is a go… rain or shine! In the case of inclement weather, we'll move the party inside KCCG's headquarters, barn and greenhouse.
Evening Schedule
6 p.m.
Dinner Buffet – Click here for menu.
Silent Auction – Click here to learn about silent auction items.
7:30 p.m.
Program
Live Auction – Click here to learn about live auction items.
8:15 p.m.
Auction Cashier Opens
Join in KCCG's mission with a gift to Raise the Rake!
Each year, KCCG empowers gardeners to grow more than a million pounds of healthy foods. Our impact is great – but community gardens do so much more than just produce food.
Your gifts to KCCG help children discover the joy and wonder of nature and inspire healthy eating. They provide teenagers with safe and nurturing spaces where they can congregate and work together. They help immigrant families develop friendships with their neighbors and residents of senior centers cultivate friendships and stay physically active. Simply put, gardens build communities.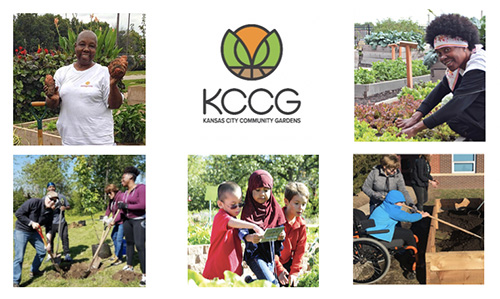 This Saturday, during Gardens at Sunset, you will have an opportunity to "Raise the Rake" and make a gift to support KCCG. Our goal during this portion of the evening is to raise $10,000, which will be divided among KCCG's programs and support:
20 Backyard Gardeners for one year
100 children who will visit the Beanstalk Children's Garden
2 Community Partner Gardens for one year
2 Giving Grove orchards for one year
2 Schoolyard Gardens for one year
Please consider a gift of $2,500, $1,000, $500, $250, $100, $50 or $25 to empower this vital programming.
You will have the opportunity to designate your gift to a specific program and make anonymous gifts at checkout.
Thank you and we look forward to seeing you on Saturday!