---
The Joy Garden to Serve
Special Needs Groups and More!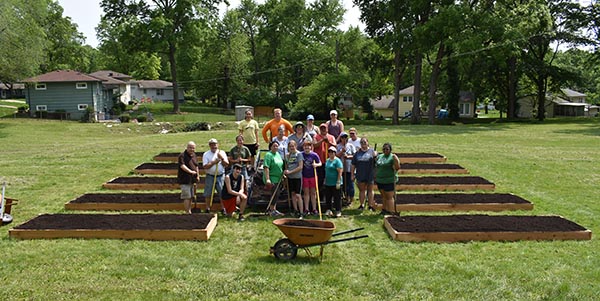 On Friday, May 31st, KCCG's Community Partner Gardens program led a group of volunteers from the St. Luke Presbyterian Joy Church to build 10 raised beds on the church grounds in North Kansas City.
The Joy Garden will serve as a community garden for several groups, including Life Unlimited Incorporated, whose mission is to support people with developmental disabilities as they experience life with unlimited possibilities. Other groups that will use the garden include Girl Scout troops, church members, and local neighborhood residents.
Help us build more community gardens like the Joy Garden through our Adopt A Garden program!
Gifts to KCCG's Adopt-A-Garden campaign enable us to provide construction materials, low-cost plants and seeds and ongoing technical assistance to gardens like the Joy Garden. Through this, your gifts empower thousands of individuals and families to grow their own healthy, fresh foods.

---
Join us in the Leanna Flandermeyer Beanstalk Garden on June 21st @5:30-8pm for KCCG's first Happy Hour in the Garden of the season! This brunch-inspired happy hour will feature food from The Waffler Food Truck along with wine, Boulevard Beer, and other brunch beverages. Tickets are $20 for a bottomless cup and $10 for alcohol-free attendees.
The 2019 Happy Hour in the Garden series is hosted by KCCG's Young Professionals Board. Proceeds benefit the Beanstalk Children's Garden, a unique learning destination that inspires children to make healthy choices, as they see, smell, touch and taste growing plants. To learn more, visit the Beanstalk Children's Garden webpage.
---
Upcoming Free Workshops
Workshops at KCCG Headquarters
6917 Kensington Ave
Kansas City, MO 64132
What's Really Bugging You? Insects in the Garden
Friday, June 7th @12pm
Do you ever wonder whether the insects in your garden are helping or harming your plants? Learn about the common insects found in our area so that you can identify garden pests as well as the beneficial insects. We will also discuss how to control problem insects.
Fermenting 101
June 21st @12pm
Curious about how to ferment your garden vegetables to preserve them, create beneficial enzymes, probiotics and improve digestion? Join us for an introduction into fermentation including sauerkraut and other spring veggies.
---
Sweet Potatoes Available and Plant Limit Lifted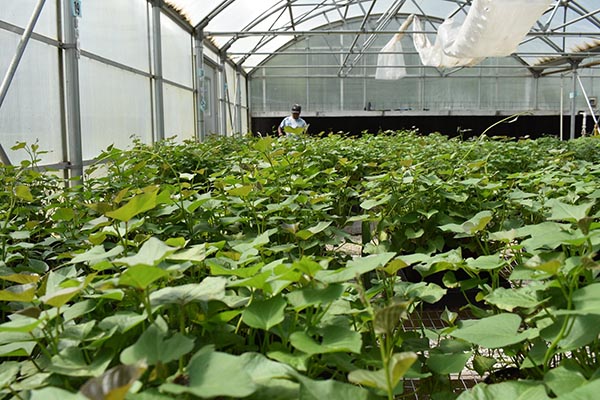 If you ordered sweet potatoes, they are ready to be picked up.
If you didn't order sweet potatoes, we have a limited supply of extra plants for KCCG members.
If you would like more warm season plants for your garden, KCCG has a lifted the plant limit for members.
You can pick up sweet potatoes and purchase more plants at our headquarters in Swope Park (6917 Kensington Ave / Kansas City, MO 64132).