Upcoming Workshops & Events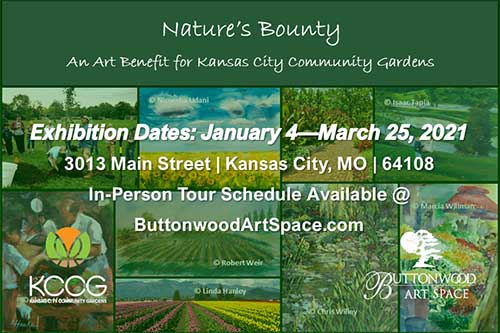 Nature is beautiful and it's bountiful. You can find nature's bounty everywhere you look! Whether it's flowers, fields, plants, greenery, fruits, vegetables, insects, or anything create by Mother Nature, it's beauty is undeniable and provides wonderful subject matter for artwork!
Artists are asked to submit works that show "Nature's Bounty". Artwork may include anything which comes from nature as well as abstract works inspired by natural themes. We know our artists will have plenty to submit, and we can't wait to see it all!
Artworks may include: paintings, photographs, 3D pieces, fiber works, jewelry and much more! 50% of sold artworks will go directly to artists, with the remaining 50% benefiting Kansas City Community Gardens (KCCG).
There will be three separate open-house dates:

Thursday, January 28th 5pm - 7 p.m.
Saturday, February 20th 10am - noon
Tuesday, March 2nd 5pm - 7 p.m.
Please check back for ticket information.
There are no workshops scheduled at this time.
Click on the links below to view cooking workshop videos and download recipes.
Strawberry Basil Popsicles