KCCG Supplies for Sale
Available at our Headquarters in Swope Park
Kansas City Community Gardens strives to be your one stop shop for quality, low-cost gardening supplies.
In addition to the seeds and plants that we offer, we also sell the following garden supplies. These supplies are currently for sale only at our Swope Park office (6917 Kensington, Kansas City, MO 64132). 
Availability varies with seasons and amount of demand. We recommend that you call KCCG offices to check availability.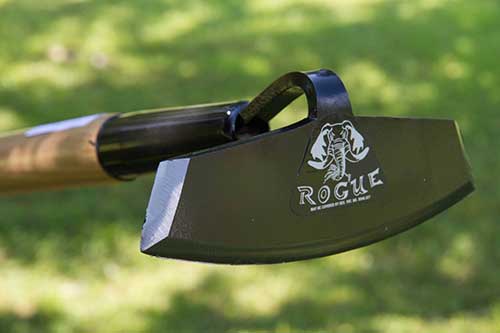 All Purpose Garden Hoe
Sharp on three sides, 60 inch ash handle, Great for weeding, loosening soil, cultivating between rows, bed preparation, making furrows, & chasing opossums.
7" inch wide/shallow bladed hoe:
Green Card Price= $30
Yellow Card Price= $35
Blue Card Price= $35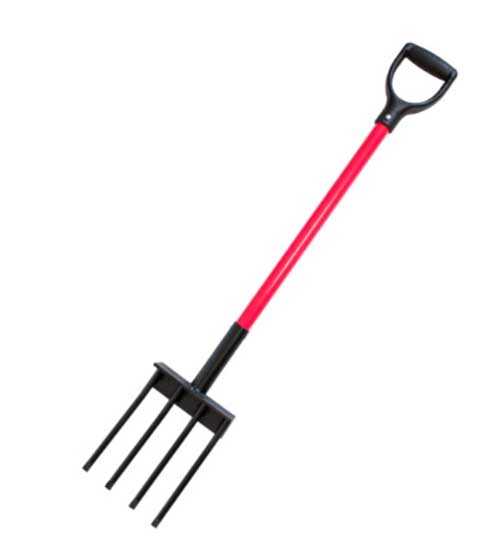 Spading Fork
Great for turning over raised beds. Can be used for digging potatoes, carrots, beets, turnips, & onions.
Green Card Price= $25
Yellow Card Price= $30
Blue Card Price= $30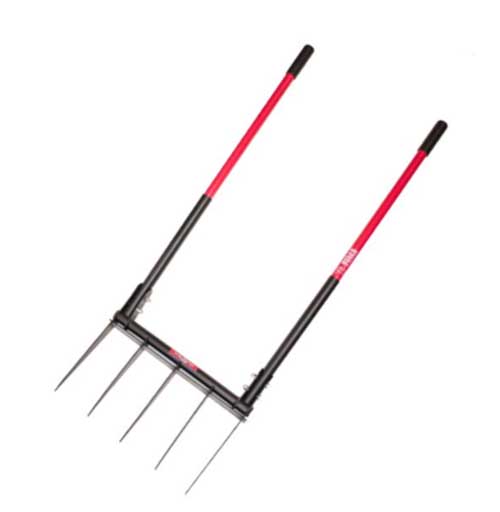 Broadfork
Heavy Duty fork for turning large garden plots.  Turns a 20" area and has removable fiberglass handles.
Green Card Price= $90
Yellow Card Price= $100
Blue Card Price= $100
Garden Supplies
Super Strong Tomato Cages:
Made out of concrete reinforcing mesh, these cages will support large tomato plants without bending or breaking. Must be staked. $5.00 per cage.
Row Cover:
Protect your plants in cool spring and fall temperatures. Our row cover is 7' across and will provide up to 5 degrees of protection. $0.25 per linear foot.
Ground Staples:
These metal ground staples are great for securing row cover. $0.15 each
Straw Bales:
Straw is great for mulching your garden as it is inexpensive and can cover a large area. Limit 6 bales.
Green Card Member Price = $7.00/bale
Yellow Card Member Price = $8.50/bale
Blue Card Member Price = $8.50/bale
Cotton Burr Compost:
Add organic matter to your soil while suppressing weeds and insulating the soil. Cotton burr compost looks similar to wood mulch but is better for your garden's soil. $6.75 for 2 cubic foot bag.
Fertilizers
Pelletized Chicken Manure Fertilizer:
KCCG is now selling organic fertilizer in the form of pelletized chicken manure. This product is "Omri listed" for organic production. 5–3-2.5 guaranteed analysis. All quantities are self-service.
• 10 lb. bag: $2.00 for green card members, $4.00 for yellow and blue card members
• 5 gallon bucket (34 lbs.): $5.00 for green card members, $10.00 for yellow and blue card members
Standard General Purpose (13-13-13):
• Total Nitrogen= 13%
• Available Phosphorus (P3O3)= 13%
• Soluble Potash= 13%
• Sulphur= 11%
• Non-Organic
Organic Insect Controls
Bacillus Thuringensis or BT
– Use for cabbage worms, cabbage loopers, tomato worms and other caterpillars.
Available as:
• Dipel Dust (dust) – 1 lb. can: $4.50
Eight Dust – (Permethrin) synthetic pyrethrin
- Use to control many different types of garden pests. Time between application and harvest varies by plant; check label for specific instructions.
• 3 lb. bag: $6.00