Sweet potatoes are one of the most popular summer crops planted in our school gardens and for good reason! They're easy to maintain, making them ideal for schools who break for summer and even though you'll plant them sometime between mid-May to early June, they won't be ready for harvest until October or November, when students are back at school.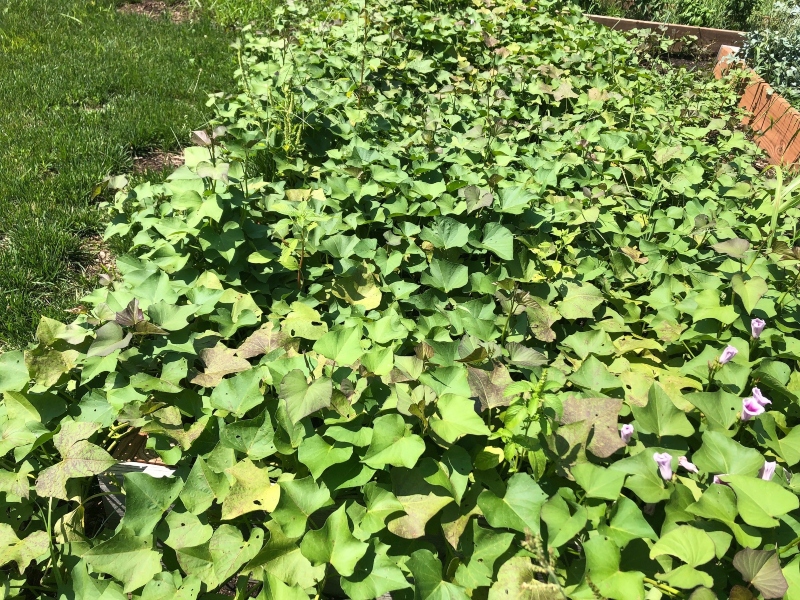 As an alternative to being with you in-person in the garden this season , we would like to share this quick how-to video for planting sweet potatoes.
A few sweet potato reminders:
If you plan to plant a fall garden, any space taken up by sweet potatoes, will not be available for planting until the following spring
Plant your sweet potatoes in mid-May to early June
Harvest your sweet potatoes in October or November before the first frost
In a preschool bed (3×9), you'll plant 2 rows of 6 sweet potato plants
In a K-12 bed (4×12), you'll plant 2 rows of 12 sweet potato plants
Dig holes about 6-8 inches deep and about 12-18 inches apart
We sell sweet potatoes by the dozen, so don't forget to separate out each slip before planting
If you're not planning to plant a summer garden this season, please be sure to close down your garden for the season by following these steps – Closing Down your Schoolyard Garden.
And please keep reaching out to us with any garden questions, struggles, or feel good stories.
Stay safe and happy planting!