Kansas City Community Gardens has had a wonderful and exciting 2022! We've had a lot of garden constructions and tree plantings (and will have a bunch more soon), we've had a really successful but also very wet Gardens at Sunset, and we've grown more transplants than ever before.
In addition to all of these great things and the reason behind them is that 2022 has also been the year with the most volunteer support we have ever had! When all was said and done, we had more than 4,970 volunteer hours.
Here are some of the highlights:
As always, our Individual and Family Gardens Program and Greenhouse have been the areas with the most volunteer support; volunteers dedicated over 2,475 hours, which is pretty close to half of the total for all of KCCG!
Over 1,500 hours were spent planting trees and fruit plants with our Giving Grove Program.
And, thanks to our volunteers, we grew a record 158,00 transplants in the greenhouse.
On Friday, November 4th, KCCG honored the Volunteers of the Year for each program and to offer thanks for all their hard work in making 2022 such a successful and record-breaking year. Below are KCCG's 2022 Volunteer Honorees:
Volunteer of the Year
Henry Michaels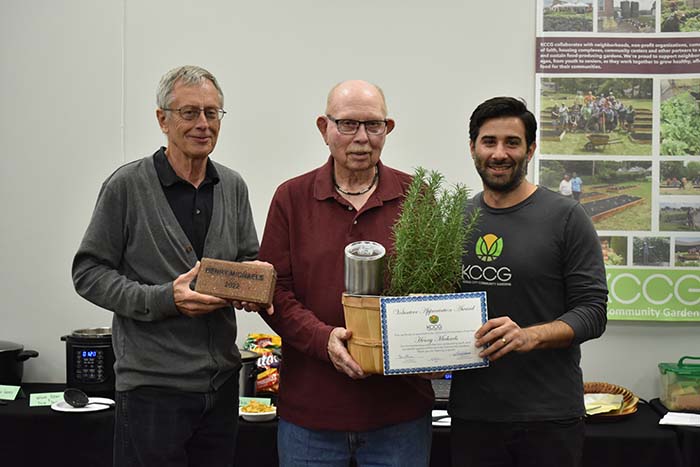 This year marks the 10 year anniversary that Henry Michaels has been a KCCG member. He originally came to us by way of a couple of other volunteers of the year; all three can be seen together more often than not hanging out in the garden or helping Greenhouse Coordinator Stacy Lasley and Office Manager Earlene Franks during our winter time seed packing marathon or seeding transplants in the early spring. Every year, he dedicates a huge amount of time to these essential tasks at our main office. This year alone he put in over 160 volunteer hours (well, at least 160 hours that we know about). He was frequently seen taking home seed labels as "homework" and rumor has it, passed the 40-hour per week mark a couple of times.
The only thing that might be more impressive than his volunteer work is all of the effort he puts into growing some ridiculously big cabbage. Even though the last couple of years were pretty tricky, he was here, helping us make sure we were ready for the upcoming gardening year. His regular presence at KCCG really exemplifies the sense of familiarity and friendship that our core volunteer community represents to all of the staff, and for all this and more we recognize Henry Michaels as the 2022 KCCG Volunteer of the Year!
Community Partner Gardens Honoree
Yvonne Garman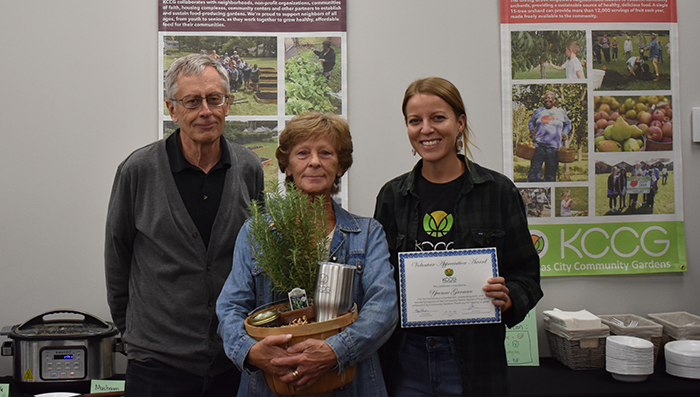 Yvonne Garman is the main coordinator for the St. Sabina Community Garden. The St. Sabina Community Garden started in 2016 with 5 raised beds and 6 years later the garden has expanded to 27 beds and has generated an amazing support network of neighbors and volunteers in the Belton area.
This year is the first year that Yvonne managed the community garden on her own without the help of her partner in crime David, who moved away with his family in the spring. Since Yvonne has taken the project over on her own, she has worked diligently and tirelessly to keep the garden beautiful, engage the church in prioritizing the garden, and share thousands of pounds of produce with neighbors, volunteers and local food pantries.
Yvonne is full of energy and love and we are so appreciative of the hard work she has put into the St. Sabina Garden and the surrounding community!
Greenhouse Honoree
Anne Brock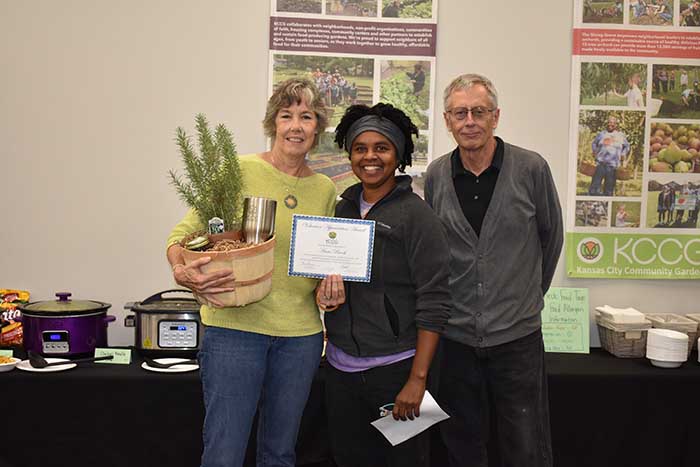 Anne Brock was an outstanding greenhouse warrior and volunteer of the year for the greenhouse department. It was comforting knowing that we could depend on Anne to show up with a smile on her face every Tuesday and Thursday through the growing season. With her help and the help of all our reliable volunteers, KCCG was able to grow over 158,000 plants that have fed families and communities throughout the KC Metro!
Schoolyard Gardens Honoree
Karen Lambing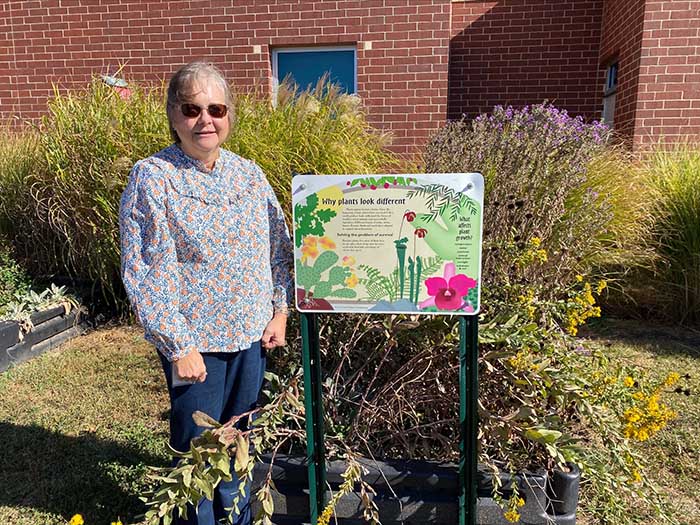 Since 2019, Karen Lambing has coordinated the Kellybrook Elementary schoolyard garden, expanding the garden from just a few beds to 9 raised garden beds that are full of fruit, herbs, and seasonal vegetables.  Students enrolled in the after-school program meet with Karen to plant, maintain and harvest from the garden. She says, "the kids' excitement and wonder motivate me to keep the gardens maintained and growing".
With the help of her husband and people from the community, she just recently built a beautiful garden veranda that teachers now use as outdoor classroom space. Karen mentioned that what she loves most is when she is spotted in the hallway by students and they ask her if they can come back out to the garden with her again soon. The Schoolyard Garden team is grateful for SYG volunteers like Karen Lambing and wants to say, "Thank You" for all the extra time and dedication she gives to Kellybrook Elementary's Schoolyard Gardens!
Development Honoree
Rick and Lisa Vaughn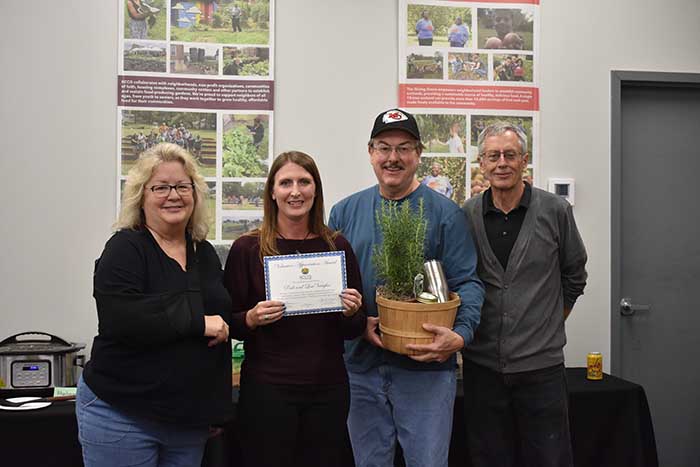 The Development team is excited to celebrate Rick and Lisa Vaughn as our 2022 Department Volunteers of the Year! Rick has served on the KCCG board since 2018 and has been an excellent ambassador for KCCG in the community, helping to connect us to new donors and garden partners. In his current role as Treasurer, he helps with many of the important behind-the-scenes tasks and fundraising efforts that are vital to keeping KCCG running smoothly.
We were delighted when Rick and Lisa accepted the role of 2022 Gardens at Sunset chairs – and then engaged their whole family to help! From our very first brainstorming meeting, they brought a new level of fun and excitement to the event, introducing several new elements like our Gift Card Grab and Bottle Toss Stations – and then worked throughout the summer to bring those visions to life. The weather on the night of the event threw us an unexpected curve this year, with a steadily falling rain throughout the evening. Despite that, more than 360 of our 400 guests still turned out for the evening, boots and umbrellas in hand, had a wonderful time, and raised a record-setting $154,000 - truly a testament to the wonderful spirit here at KCCG that draws people in, and the many volunteers like Rick and Lisa who have helped to build such a fantastic community here. We thank them for their leadership, vision and all of the hard work they put into making this year's event, and KCCG's overall work, such a success!
Beanstalk Children's Garden Honorees
Betty Maloney & Isabella Garrett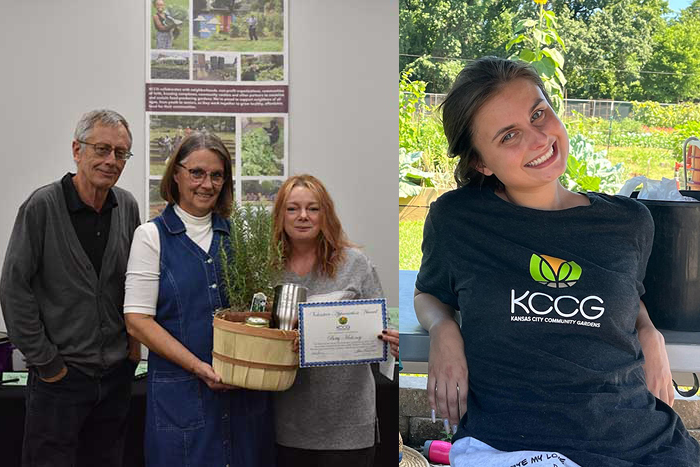 Betty Maloney
Well, what can we say about Betty?  She always has a smile on her face, always willing to step in and help from repainting picnic tables to watering to assisting with Beanstalk tours, and those can be scary.  As a former teacher, Betty fit right in at the Beanstalk Children's Garden assisting with large tours. It's not easy keeping 65 2nd graders engaged and interested in nutritional eating habits but Betty was up to the task.  We are grateful for her time, positive and uplifting energy, creative thinking and for always putting a smile on our faces!
Isabella Garrett
Isabella came to us via her grandmother Brenda Holbrook, who was last year's Beanstalk Volunteer of the Year.  Since she started volunteering there hasn't been a task she couldn't tackle. Her outstanding "can-do" attitude make a hard day's work in the garden more enjoyable. While she hasn't been with us very long, we wanted to recognize Bella for all the hard work she put in this summer!
Individual & Family Gardening Honoree
Sue-Anne Johnson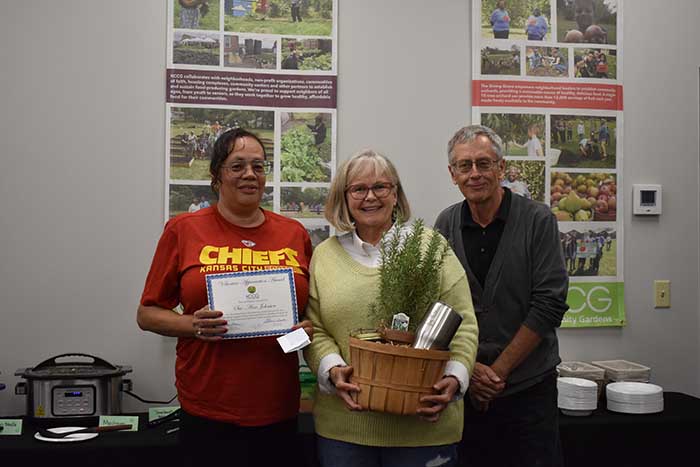 In the relatively short time that Sue-Ann has been volunteering with KCCG (since the beginning of this year), she has become an amazing source of support for a wide array of programs at KCCG, but in particular to our Individual and Family Gardens Program.
If there is one place that she has become a vital source of support it has been in KCCG's Front Office, where she took on the role incredibly well and quickly, helping Front Office Assistant Izola Pickett and the rest of our staff in an essential and very busy area of our office. The work at KCCG's front office is not like that of your typical organization – most people working on greeting and serving others don't typically get to talk to them about chicken poop or tillers while helping them with their enrollment application on a computer and working a cashier at the same time. Still, Sue-Ann shined in her role in the front and many other tasks ranging from major events, greeting teachers and helping them with schoolyard garden orders, and of course, joining our wonderful seed-packing crew for helping us label and pack seeds.
Even though it has been less than a year since she joined as a regular volunteer, she has become a reliable support for KCCG, and it feels like she has been with us much longer. This is why we recognize Sue-Ann as our Individual and Family Gardens Program Volunteer of 2022!
The Giving Grove Honoree
Kelly Finn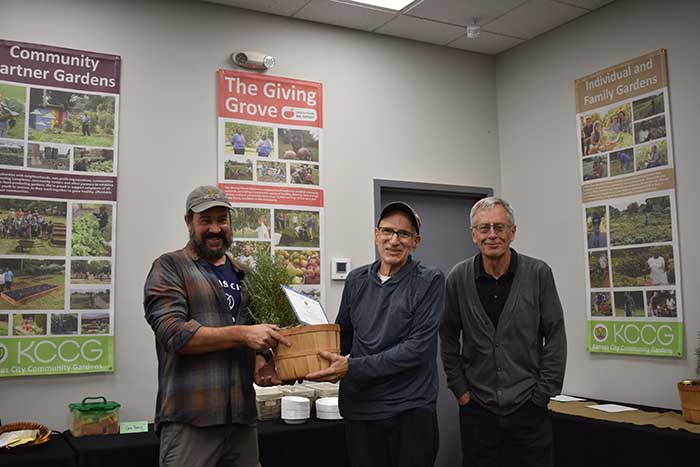 Kelly Finn started volunteering with us this year and logged over 120 hours! Kelly did a lot of everything for the Giving Grove throughout the year. He started by helping pot trees and then sorted them for KCCG fruit tree orders.
He took on the tedious task of thinning fruits on older trees and pinching off blossoms on younger trees. Kelly hasn't met a weed he likes, in other words loves to weed.
Kelly helped water in the nursery and the new fruit trees in the Kauffman Community Orchard and the Beanstalk Expansion Orchard. He also loved watering and working in the Giving Grove nursery.
And last but not least, Kelly volunteered on planting trees in various orchards in Kansas City.
Thank you Kelly for your hard work and dependability. KCCG and Kansas City are better because of your volunteering.
We are truly honored to have such a constant and dedicated group of friends to support the work we do. Thank you to all of the KCCG volunteers who made 2022 a success!