We hope you had a wonderful Earth Day celebrating our beautiful planet!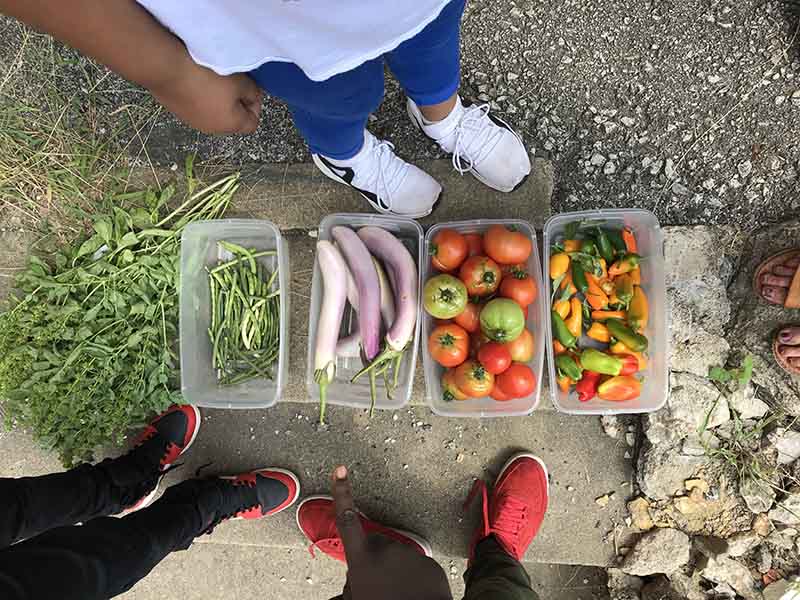 By now most of your schoolyard gardens are growing rapidly and veggies like radishes, green onions, arugula, and spinach are ready to be tasted and harvested for fresh spring salads! Slower crops like potatoes, beets and carrots are just now starting to sprout and will need more time to fully mature. In another week or so you'll see broccoli heads forming!
With all of this hearty spring growth and the warming temperatures, it's already time to start thinking about your summer schoolyard garden.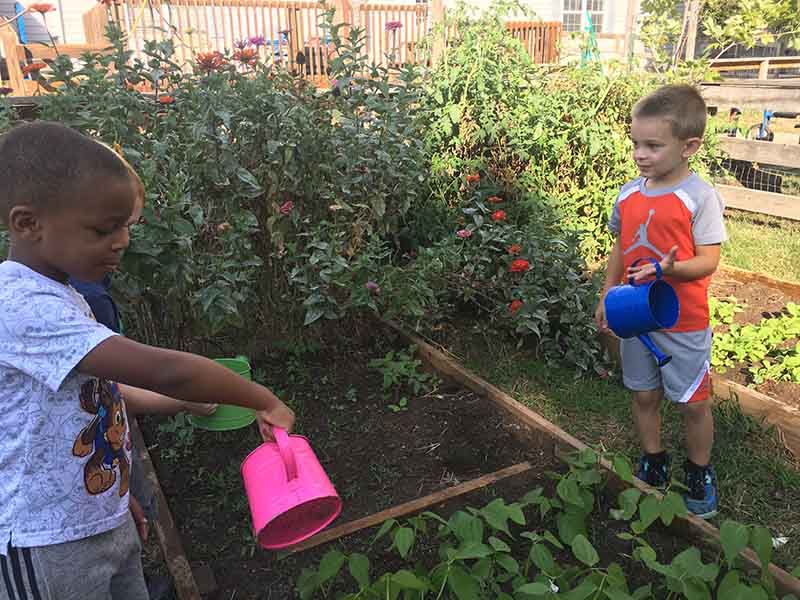 This year we revamped our online order form to provide schools with even more tools and resources for planning and planting the garden. We sent out the summer order form on Monday April 22, so if you don't see it, make sure to check your spam or junk folder and search your inbox for "syg@kccg.org" and see if an email with the subject line "It's Time to Order Summer Seeds and Plants for: Your School" pops up!
On the first page of the order form you will find pre-made planting plans (example below) with some of our favorite summer crops. By choosing one of these plans, you will know exactly how many and what kind of plants and seeds to order for your summer garden. Open the pdf in a new tab or print it out and then use that plan to fill in the order form online.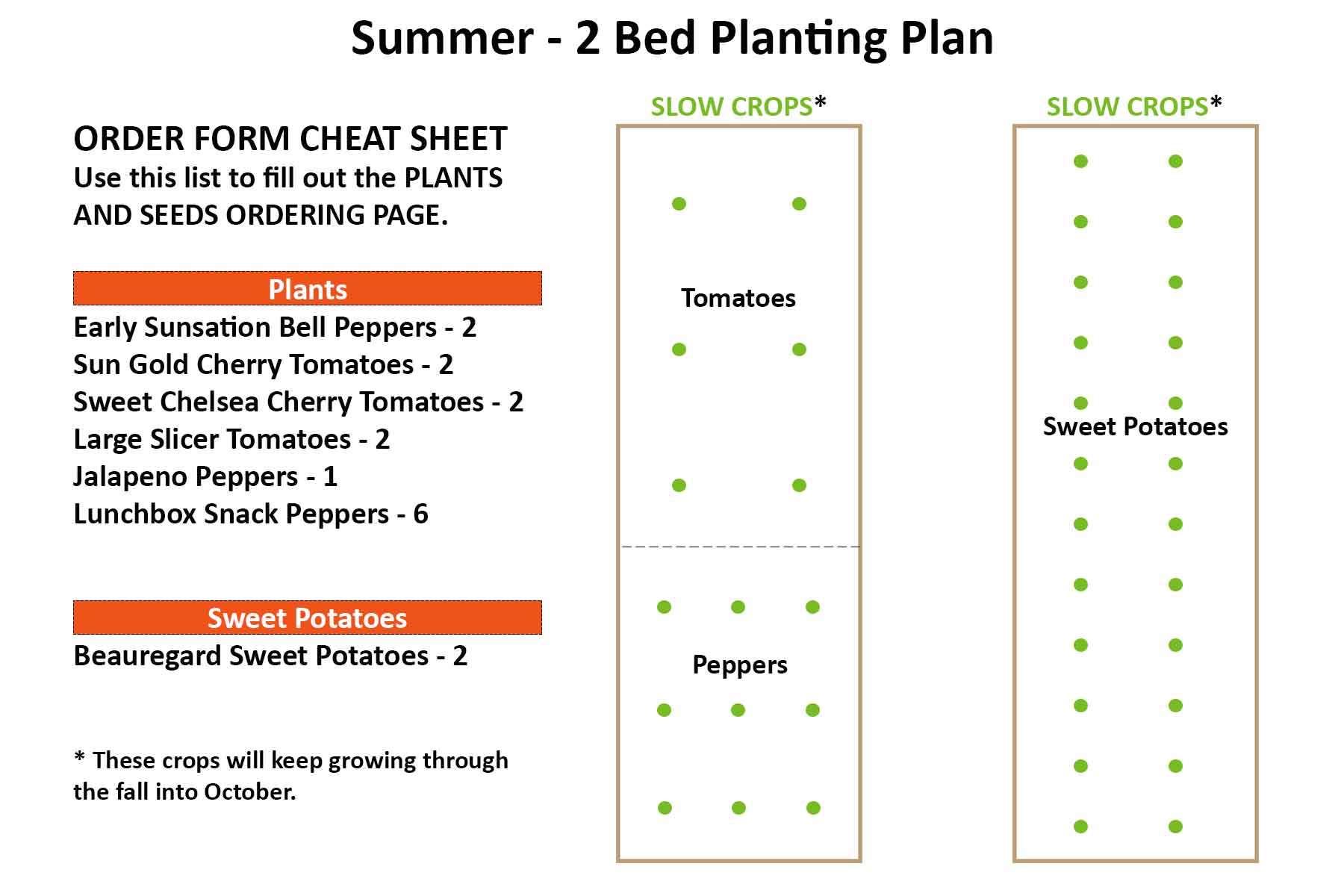 Click the Image to Download This Plan
On the second page of the order form we have cheat sheets with tips on how many packets of seeds you will need to fill your garden bed. We also show you how many tomato plants fit in a garden bed and how to space them out amongst the bed for optimal growing (and caging!).
Click the Image to Download a Printable PDF
Click the Image to Download a Printable PDF
But Hannah, we aren't in school over the summer, why should we plant a summer garden? I get this question a lot! Even if you are not in school in June and/or July, you can still plant tomatoes, peppers, and/or sweet potatoes in late May before school lets out. By mulching these plants heavily with straw and watering them frequently while they are establishing themselves, they will be able to survive the summer. Perhaps a neighbor, staff member, or student would be able to water the garden a few times over the summer.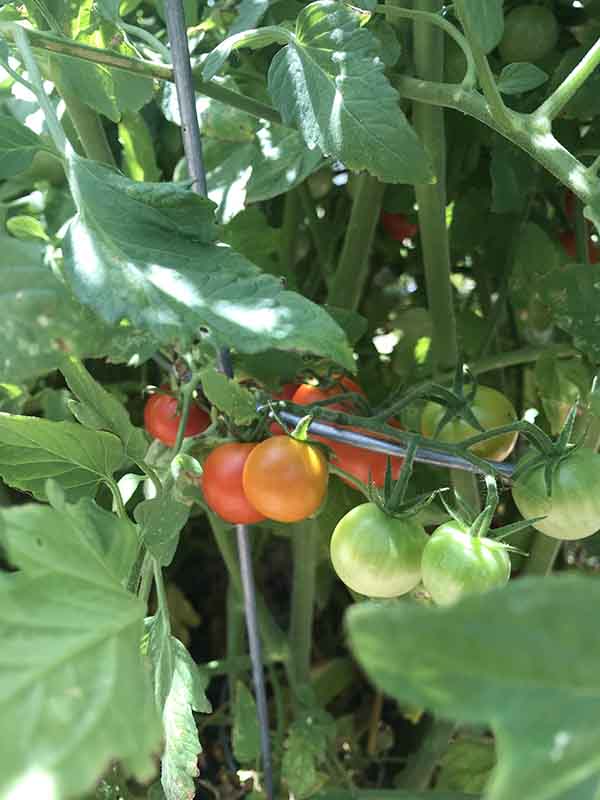 The best part is that when you come back to school in August, your garden beds will be bursting with ripe red tomatoes, and brightly colored peppers and lush sweet potato plants. The tomatoes and peppers will continue producing through the fall, until the first frost. That could mean lots of salsa, bruschetta, and snacking on sweet lunchbox peppers from August through October! The sweet potatoes will be harvested once, in September or early October.
So give summer schoolyard gardening a try this year! Contact your schoolyard gardens coordinator with any further questions. In the meantime, keep watering, weeding, and harvesting!