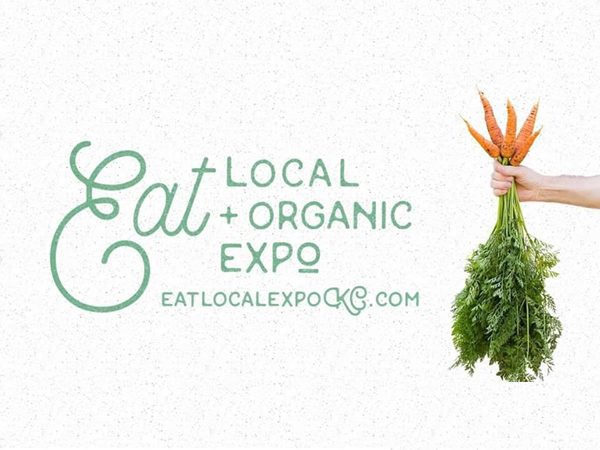 Eat Local & Organic Expo
March 23rd @9am-3pm
Join us for our 21st annual Eat Local & Organic Expos for a chance to meet and buy directly from some of the best local, organic, & free-range farmers, small-batch artisans, and makers in the area. Snatch up early flower and garden seedlings, CSA, fresh greens, herbs, free-range meat and eggs & pick up a copy of our Directory of local organic & free range producers.
Pop-up Workshop "How to Eat Local and Organic" starting at 10:00 and held every hour on the hour, these 15 minute workshops will empower you with all of our best tips for making the most of the bounty available to us in the midwest!
Johnson County Community College
12345 College Blvd
Overland Park, Ks 66210
Free Workshop: Vegetable Garden Basics
March 26th @ 12pm
This workshop is helpful for beginning and experienced gardeners. Learn the fundamentals of successful vegetable gardening including: site selection, soil improvement and preparation, garden planning, planting techniques, variety selection, garden maintenance and harvesting.
KCCG Headquarters
6917 Kensington Ave
Kansas City, MO 64132
Grow, Cook, Give.
April 3rd @ 4:30 - 7pm
Join us for Pryde's Annual Grow, Cook, Give on April 3rd from 4:30-7pm featuring a demonstration by Kathy Moore and Roxanne Wyss featuring recipes from their new cookbook, "Delicious Bundt Cakes," and "Container Herb Garden" demonstration by Ben Sharda of KCCG. Tickets are $25 in advance or $30 at the door and includes tasting and beverages. There will also be a raffle for fabulous items like cookware, garden books, wine and more! Raffle tix are 5 for $20.
Pryde's Old Westport
115 Westport Rd
KCMO, 64111
2019 Spring Workshop Schedule
All workshops are free! Please note the location of the workshops at the top of each schedule.
KCCG Office in Swope Park
6917 Kensington, KCMO 64132
| When | Time | Workshop |
| --- | --- | --- |
| Feb 8th | 12:00PM | Selecting and Planting Fruit Trees and Berry Bushes: Add fruit to your garden or learn more about the best fruit varieties for our area. We will discuss the fruit plant varie-ties offered by KCCG as well as basic fruit planting techniques. |
| Feb 22nd | 12:00PM | Hands-on Fruit Tree and Small Fruit Maintenance: All fruit plants require some sort of maintenance, from pruning to thinning to pest management. Learn what to do, why to do it and when to do it. Learn about spring pruning in the garden. Hands-on outside in the garden. Weather permitting. |
| March 1st | 12:00pm | Fruit Tree Care and Maintenance: Fruit trees can be incredibly rewarding, but it takes work to get that reward year after year. Learn pruning and pest management techniques and timing for fruit trees and berries to insure a bountiful harvest. |
| March 9th | 10:00am-12:00pm | Planning and Planting Your Schoolyard Garden: Designed for teachers or school staff who have or are planning to start a school garden, this workshop will cover the basic gardening knowledge needed for planning and planting your spring and summer school garden. Plant selection, tips for planting and garden management will all be dis-cussed. We will also highlight ideas for fun garden activities and demonstrate garden-based lessons. |
| March 15th | 12:00pm | Growing Great Ground Plots: Tilling up a sunny space in your yard is the quickest, cheapest and easiest way to start a garden. Come learn the benefits of planting a garden directly into the ground. |
| March 26th | 6:00pm | Vegetable Garden Basics: This workshop is helpful for beginning and experienced gar-deners. Learn the fundamentals of successful vegetable gardening including: site se-lection, soil improvement and preparation, garden planning, planting techniques, va-riety selection, garden maintenance and harvesting. |
| April 5th | 12:00pm | Container Gardening – How to Grow Food Plants in Containers: it's not the easiest way to garden but, if you don't have a good place for a regular garden – container gardening is a good option. Learn how to grow vegetables, herbs and fruits in containers using proper soil mix in good containers using the best plant varieties and growing techniques. |
| April 19th | 12:00pm | Tomatoes, Peppers and Sweet Potatoes - Oh My! Are you overwhelmed by the number of tomato varieties available? Are you confused about heirloom tomatoes? Do your pepper plants not produce as many peppers as you would like? Are you disappointed when you dig up your sweet potatoes? Come learn how to select, plant and care for tomatoes, peppers and sweet potatoes. |
| May 3rd | 12:00pm | Vegetable Garden Basics: This workshop is helpful for beginning and experienced gardeners. Learn the fundamentals of successful vegetable gardening including: site selection, soil improvement and preparation, garden planning, planting techniques, variety selection, garden maintenance and harvesting. |
| May 17th | 12:00pm | Cooking with Spring's Greens: Everyone is talking about super foods - kale, collards and other leafy greens - but not everyone knows how to prepare them. Learn some easy and delicious recipes as well as how to put together simple salad dressings. We will focus on whatever produce is ready to harvest. Come ready to sample some delicious foods. |
| June 7th | 12:00pm | What's Really Bugging You? Insects in the Garden: Do you ever wonder whether the insects in your garden are helping or harming your plants? Learn about the common insects found in our area so that you can identify garden pests as well as the beneficial insects. We will also discuss how to control problem insects. |
| June 21st | 12:00pm | Fermenting 101: Curious about how to ferment your garden vegetables to preserve them, create beneficial enzymes, probiotics and improve digestion? Join us for an introduction into fermentation including sauerkraut and other spring veggies. |
Ivanhoe Community Center:
3700 Woodland, KCMO 64109
| When | Time | Workshop |
| --- | --- | --- |
| Feb 12th | 5:30pm | KCCG Membership Sign-ups & Planning Your Plot for Garden Success: Find out how creating a planting plan for your garden plot can help you maximize garden space, get more of the vegetables that you love and save you time and money. KCCG has developed some great tools to help you create a garden plan and seed/plant list for spring, summer and fall. |
| March 12th | 5:30pm | Kick-Start Your Garden: Planting Early Spring Crops: Give in to your spring gardening fever and get outside to plant a spring vegetable garden. Learn about selecting, plant-ing and caring for vegetables that thrive in the cool spring weather. |
| May 7th | 5:30pm | What's really bugging you? Insects in the Garden: Do you ever wonder whether the insects in your garden are helping or harming your plants? Learn about the common insects found in our area so that you can identify garden pests as well as beneficial in-sects. We will also discuss how to control problem insects. |
| June 11th | 5:30pm | Cooking with Spring's Greens: Everyone is talking about super foods - kale, collards and other leafy greens - but not everyone knows how to prepare them. Come learn some easy and delicious recipes as well as how to put together simple salad dressings. We will focus on whatever produce is ready to harvest. Come ready to sample some deli-cious foods. |
Sermon Center
201 North Dodgion Independence, MO 64050
| When | Time | Workshop |
| --- | --- | --- |
| March 14th | 4:30pm | Vegetable Garden Basics: This workshop is helpful for beginning and experienced gardeners. Learn the fundamentals of successful vegetable gardening including: site selection, soil improvement and preparation, garden planning, planting techniques, variety selection, garden maintenance and harvesting. |
Satellite Seed and Plant Sales
Independence, MO
Sermon Center (South Room):  201 N. Dodgion, Independence, MO 64050
Spring, Cool Season Plants: Thursday, March 28 @ 4:00-5:00 pm
Summer, Warm Season Plants: Thursday, May 2 @ 4:00-5:00 pm
For more information contact Suzanne Meyer at smeyer@indepmo.org or 816-325-7320
Kansas City, KS
Northrup Park Community Garden:  939 Barnett, Kansas City, KS 66101
Spring, Cool Season Plants: Monday, March 25 @ 5:00-6:30 pm
Summer, Warm Season Plants: Tuesday, April 30 @ 5:00-6:30 pm
La Placita Market: 11th and Central, Kansas City, KS 66102
Summer, Warm Season Plants: Saturday, May 4@ 11:00 am-1:00 pm