With more people staying home this past year, KCCG saw a significant increase in interest for home gardens. These gardens became a great source of food and exercise for folks looking to escape the monotony of indoor isolation.
Angela Yuriko Smith of Independence, Missouri had a home garden but was experiencing some bad luck. Her plants were failing so she turned to KCCG for help.
Shea Bergman, KCCG's Youth and Home Garden Coordinator, paid Angela a visit in the fall of 2019 to give her some consultation and she was able to turn her garden around this past year.
Angela recently sent Shea the following email to show her appreciation:
KCCG,
Last fall you came to my house and talked about gardens with me. At that time I had a failing zucchini and an overcrowded "container garden" of dying basil, tomato and marigold. When I walked wistfully through garden centers, plants would tremble that I might select them for death at my house.
That short visit and conversation meant the world to me. Less than a year later I now have a huge garden that has grown to encompass half of my yard, another bed in the front and various potted veggies that are mostly thriving. (Squash, it turns out, did not like being in a container).
For the past month we have been eating fresh organic kale, broccoli, green peppers, new potatoes, and cucumbers. I can't remember when I last went through the produces section for something more than bananas. Not only do we have the calm comfort of knowing our dependence in the grocery stores is less, but the food we are picking is SO much tastier and it goes from the garden to plate in an hour or less. No fossil fuels, no pesticides...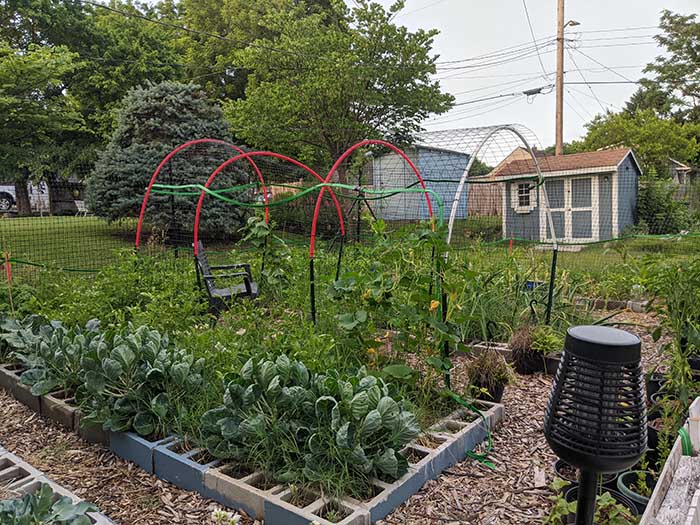 I also wound up raising chickens, mealworms (for chickens) and am just now starting a vermicomposting bin for castings, compost tea and to process up what chickens won't eat. So thank you. Really, what you are doing means a lot. It may even save lives—we don't know how bad this can get.
This email is just to say thank you and let you know (I'm sure you are well aware) how important the work of KCCG is... and your role in that.
You all ROCK!
Angela Yuriko Smith of Independence, MO
Thanks Angela! You rock too!
KCCG's work is made possible by many generous donors. Every dollar given can help a neighbor grow nearly $4 of healthy, fresh produce. Please consider a gift to support a garden or orchard in the coming year.