In the summer of 2020, KCCG began a partnership with Liberty Academy students and staff. It started as a simple vegetable garden on the Pharis Farms property, a historic farmstead in Clay County.  The students reached out to Clay County Historical Society and Pharis Farms to work out the details.
Liberty Academy is an alternative school or "Unschool" with 75 youth who have not thrived in the traditional classroom setting.  They design & research their own projects each semester.  This first project was to create four raised beds to grow veggies and compliment the butterfly garden and fruit trees that were already in place.  The food grown will be donated to families at the school in need of healthy alternatives.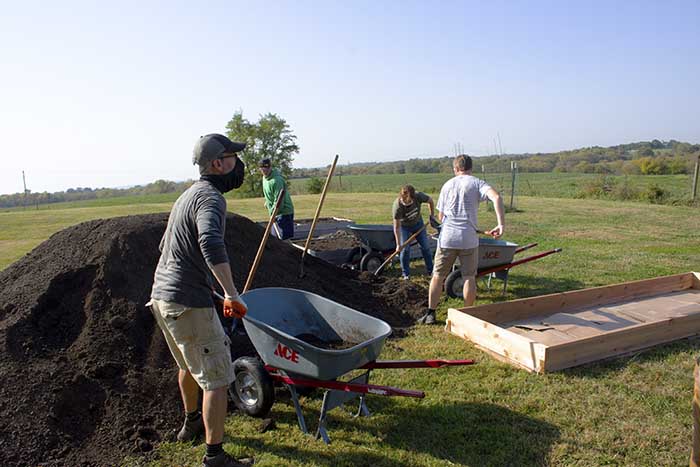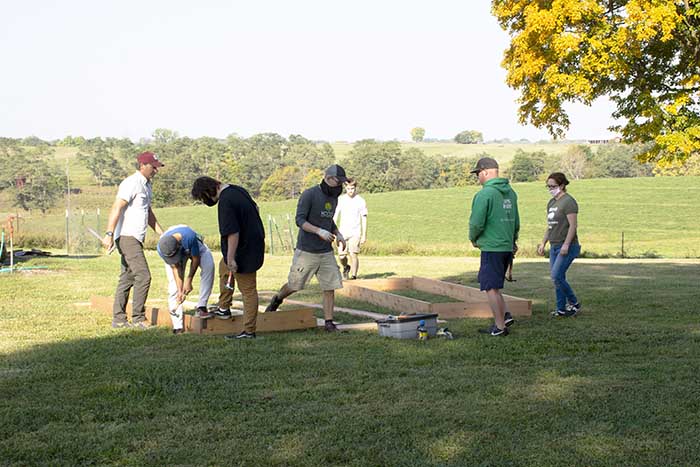 Next, they moved onto an unused patch of mulch at the school itself.  But this time they designed & built their own garden beds to fit the look of their corner entrance and replace the dead boxwoods.
The Phoenixes of LA are ready to act once they have a plan!  And it helps that they have a working woodshop in the school so the two entrance gardens were built and filled with soil in a couple of days.
But still, staff & students of Liberty Academy were restless…  it was October and there's not much you can do with a brand new garden as winter approaches.  The Academy is actually full of students who want to be active, working and creating, so a "March 2021" planting day sounded too far off to them.  "What can we grow indoors?", they asked.  We started talking and it turns out they have a working student/staff kitchen and several of the students like to use fresh ingredients.
They also had an art room with lots of windows that gets warm when the furnace is running. So they decided to build tables (again in the woodshop) and order 3 grow light stations for the windows to the art room.
Now they have garlic planted outside and basil, lettuce, chard, and parsley sprouting under lights next to student artwork.   It seems the energy and collaboration never stop!  The conversations with student chefs and staff made them realize they were throwing kitchen scraps in the trash.  So what did they do next?  Build a custom compost bin to cut down on food waste!
Stay tuned for more garden updates from Liberty Academy in March 2021!
KCCG's work is made possible by many generous donors. Every dollar given can help a neighbor grow nearly $4 of healthy, fresh produce. Please consider a gift to support a garden or orchard in the coming year.