Hi garden friends, my name is Lauren and I'm excited to begin my new role as a Missouri Healthy Foods AmeriCorps member serving with the Schoolyard Gardens team.
After spending the spring into summer months working as a Garden Assistant in the Beanstalk Children's Garden, I feel fortunate to transition into my AmeriCorps position, and continue learning and teaching with such creative and fun KCCG colleagues and community members.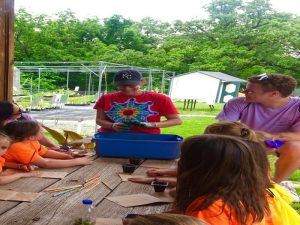 My year of service was kicked-off with a week-long AmeriCorps training in Columbia, Missouri hosted by Missouri River Communities Network. While at the training, I met the other Missouri Healthy Food AmeriCorps members who quickly turned into a new network of friends. Though each of us are stepping into our service year with diverse backgrounds, we all share a common interest in hands-on farm and garden education that increases awareness and access to fresh, healthy fruits and vegetables.
I'm arriving to the Schoolyard Gardens team with a background in organic farming, community gardening, and food production. After graduating from Indiana University, I apprenticed at Adamah Farm in Falls Village, CT. It was at Adamah that I learned to celebrate the cycle of compost, revel in the magic of lacto-fermentation, be-friend goats and chickens, and tend the land while honoring all of its gifts. After my time at Adamah, I worked as an Assistant Grower at Waltham Fields Community Farm in Waltham, MA. At Waltham Fields, I learned tractor cultivation and CSA management, while also supporting their food access initiatives with weekly low-income markets around the Greater Boston area.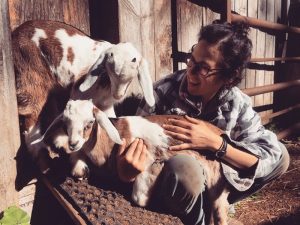 When the growing season at Waltham Fields came to a close, I sought out a job to bridge the months between the end of one farm season and the start of the next. Oompa Loompa jokes aside; I accepted a position as a Chocolate Maker at Taza Chocolate in Somerville, MA. Taza Chocolate offered me the opportunity to pursue my interest in food production within a family-owned business that valued sustainable sourcing from bean to bar. What I initially approached as a temporary job between farm seasons, turned into over three years of sweetness and professional growth.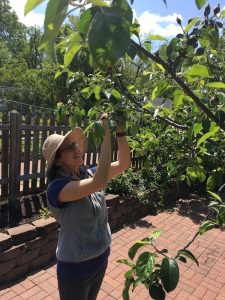 When I reflect on the experiences that have led me to return to my hometown of Kansas City, I'm reminded that my classrooms have been anything but conventional. My greatest teachers include tiny seeds and abundant harvests, homegrown cucumbers fermented into crisp pickles, and cacao nibs refined into delicious dark chocolate. Engaging in experiential learning that I can taste and touch has been profoundly meaningful to me, and I'm thrilled to continue this learning and growth with students and community members during the 2019-2020 school year. Here's to learning from the land and each other, and sharing in the flavor of each new season!