It is finally spring planting time in Kansas City! We are so excited to get outside and begin digging in the soil, and planting seeds and transplants with students all over the city. Sometimes schoolyard gardeners have a lot of questions about best gardening practices. At first, all of your questions could make gardening a little overwhelming. We hope the tips below will prepare you and your students to successfully grow in the garden this spring!
Prep Raised Beds the Week Prior to Planting:
By visiting the garden before your planting date, you will have a better idea of the work that needs to be done on planting day. Clear out any winter weeds and turn the soil. This will allow the sun to warm up the soil and will make the planting day much easier. To learn more about prepping your garden, check out our Getting Ready for Spring! Blog post from last week.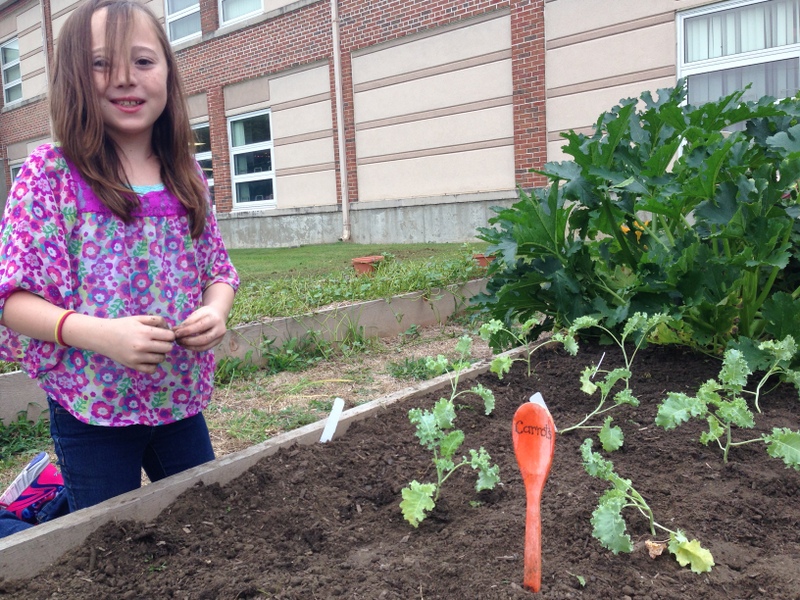 Tools:
The great part about planting in raised beds, is that you need very few tools. Hand Cultivators and Hand Trowels are Schoolyard Gardens' go-to tools. If soil is soft, students can often dig furrows or even shallow holes with their hands. Hands are great for pulling out weeds as well.
Limit Vegetable Varieties per Bed:
Plant no more than four crops per bed to ensure an adequate amount of each crop. By doing so, there will be enough of each vegetable for all students to taste what they have grown.
Plant North to South:
All vegetables want as much sunlight as possible. When you plan out your garden, be sure that taller plants, such as tomatoes and peppers, are on the North side of your planting bed so they won't shade smaller plants such as zucchini.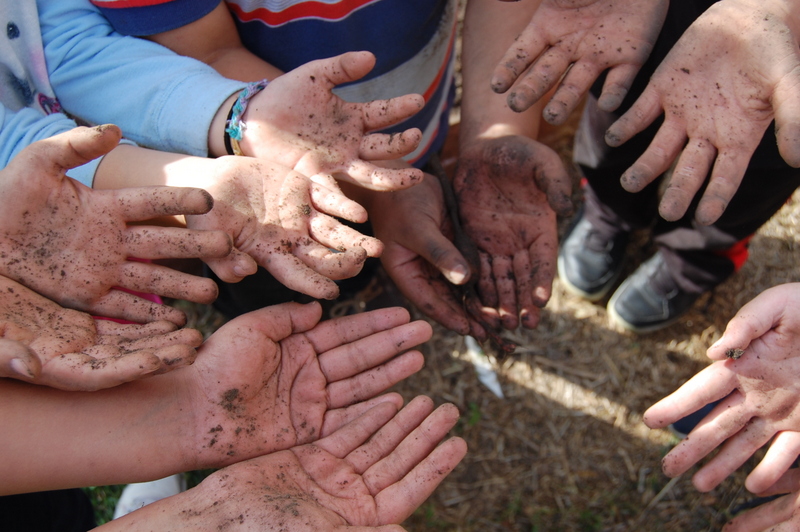 Plant Vegetables with Similar Growing Times:
When growing in small spaces, like schoolyard gardens, it helps to plant vegetables near each other that have similar growing times. This way entire sections of the garden are on the same growing timeline and different crops can be turned over at the same time.
Spring and Fall Crops (based on Schoolyard Garden variety recommendations):
21 – 42 Days
45 – 60 Days
49-65 Days
90-100 Days
Grows All Season
Arugula
Beets
Peas
Potatoes*
Kale
Spinach
Turnips
Broccoli
Onions*
Collards
Radishes
Carrots
Cabbage
Swiss Chard
Lettuce
Mustard Greens

*available only in spring

Green Onions
Cilantro
Plant Rows Across the Width of the Beds:
Planting rows across the shorter width, rather than down the length of the beds is much easier for Schoolyard Gardens. This allows more students to work on each bed, is easier for students to plant, and promotes working in partnership. Students can work across from each other, in pairs, and plant sections of the bed.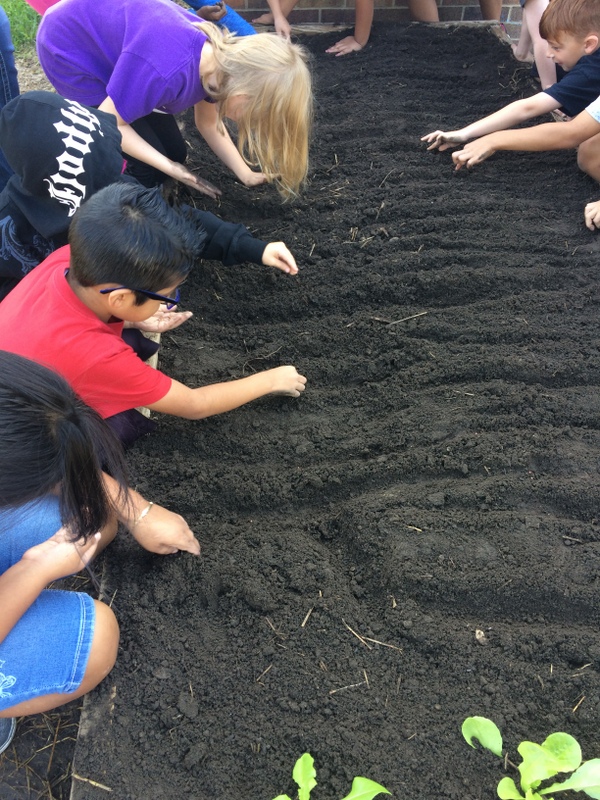 When in Doubt Use the Spacing Cheat Sheet Below:
The Raised Bed Spacing Guide is a great tool to learn the correct spacing each different vegetable needs. For a quick and easy tool follow the below tips to space your seeds and plants. If your students do not have a ruler or tape measure outside with them, spacing with hands (usually 4"-6" wide) is a great general spacing trick.
Seeds:
Dig furrows ACROSS raised bed. Furrow should not be deeper than 1/2".
A good rule (for most seeds) is to dig each furrow "one hand distance" apart.
Snap pea furrows should be dug "two hands distance" apart.
Plant seeds in furrows 2"- 3" apart – you will thin them to the recommended "Raised Bed Planting Guide" once they've sprouted.
Plants:
| | | |
| --- | --- | --- |
| 3'x9' Raised Bed | 4'x8' Raised Bed | 4'x12' Raised Bed |
| Broccoli – 2 across, 5 down | Broccoli – 3 across, 4 down | Broccoli – 3 across, 7 down |
| Cabbage – 2 across, 5 down | Cabbage – 3 across, 4 down | Cabbage – 3 across, 7 down |
| Collards – 2 across, 5 down | Collards – 3 across, 4 down | Collards – 3 across, 7 down |
| Kale – 2 across, 5 down | Kale – 3 across, 4 down | Kale – 3 across, 7 down |
| Lettuce – 3 across, 8 down | Lettuce – 5 across, 8 down | Lettuce – 5 across, 12 down |
| Spinach – 4 across, 8 down | Spinach – 6 across, 8 down | Spinach – 6 across, 12 down |
| B. Sprouts – 2 across, 5 down | B. Sprouts – 3 across, 4 down | B. Sprouts – 3 across, 7 down |
| C. flower – 2 across, 5 down | C. flower – 3 across, 4 down | C. flower – 3 across, 7 down |
| Peppers – 2 across, 5 down | Peppers – 3 across, 4 down | Peppers – 3 across, 7 down |
| Tomato – 1 across, 4 down | Tomato – 2 across, 3 down | Tomato – 2 across, 5 down |
| Eggplant – 2 across, 5 down | Eggplant – 3 across, 4 down | Eggplant – 3 across, 7 down |