Tomatoes, Zucchini, and Peppers oh my! Do you have tomatoes galore? Zucchini for days? Peppers that just won't stop? First, congratulations! Second, don't let those veggies and all your hard work go to waste. Start harvesting now and then use these simple recipes to create a beautiful summer feast!
Harvest each of the below vegetables by holding onto the stem with one hand and the fruit with the other. Then twist the ripened fruit gently until it pops off the plant. Tomatoes and peppers can be harvested until the first frost while zucchini will continue to grow until early Fall. For tips on harvesting other summer crops, check out the KCCG vegetable info sheets.
Tomatoes
Ultimate Caprese Salad from https://www.bonappetit.com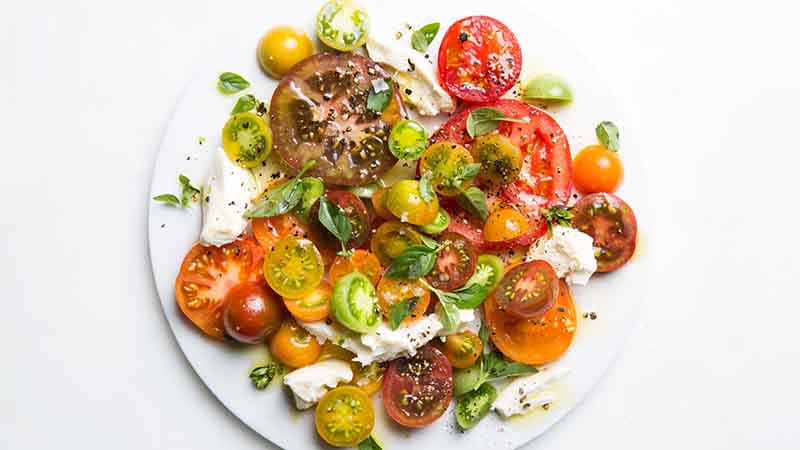 Ingredients
1-pint mixed cherry tomatoes, halved
7 tablespoons (or more) extra-virgin olive oil, divided
Flaky sea salt
2 pounds mixed medium and large tomatoes, preferably heirloom, cut into thin slices and/or wedges
8 ounces buffalo mozzarella or mozzarella, room temperature, torn into pieces
Coarsely ground black pepper
Small basil leaves and toasted country bread (for serving)
Instructions
Toss cherry tomatoes with 1 Tbsp. oil in a small bowl; season with salt.
Arrange tomato slices on a platter, slightly overlapping; season generously with salt.
Arrange mozzarella over tomatoes; lightly season mozzarella with salt. Spoon cherry tomatoes over salad and drizzle with 6 Tbsp. oil; season with pepper.
Let stand 30 minutes to let flavors meld and release juices from tomatoes and mozzarella.
Top salad with basil and additional salt and oil, if desired. Serve with bread alongside.
Zucchini
Healthy Zucchini Chocolate Chip Muffins from https://www.wellplated.com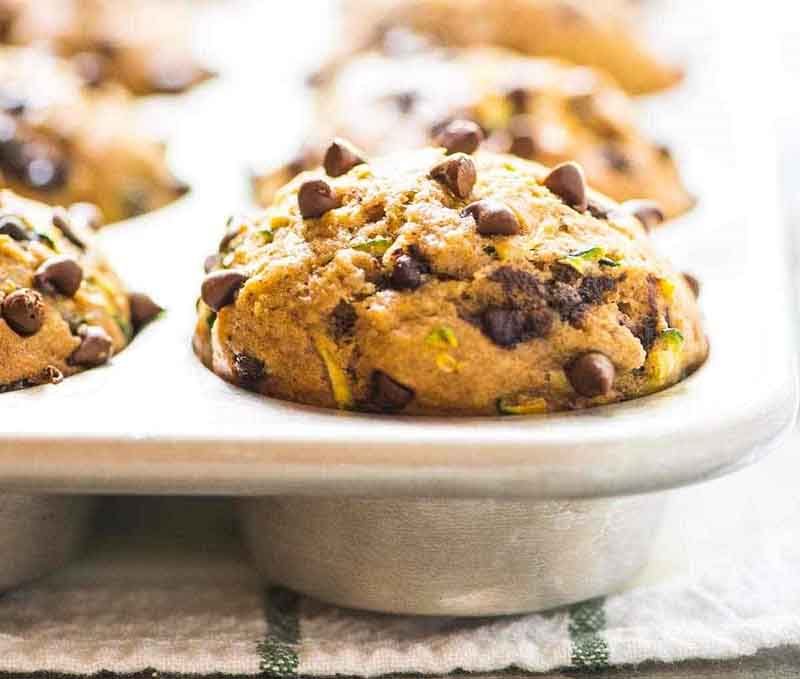 Ingredients
2 cups shredded, unpeeled zucchini — (about 1 small/medium zucchini)
1/2 cup mashed ripe banana — about 1 medium/large or 4 ounces
1/4 cup coconut oil — melted and cooled, very light olive oil, or canola oil
1/4 cup honey
1/4 cup brown sugar — light or dark
1 teaspoon pure vanilla extract
2 large eggs — at room temperature
1 teaspoon ground cinnamon
1/2 teaspoon baking soda
1/2 teaspoon baking powder
1/2 teaspoon kosher salt
2 cups white whole wheat flour
1/3 cup semi-sweet chocolate chips — mini or regular (I used mini)
Instructions
Preheat the oven to 375 degrees F. Lightly grease a standard 12-cup muffin tin or line with paper liners.
Grate the zucchini, then thoroughly squeeze it with a paper towel to remove as much excess water as possible. Repeat as needed. If you have not already, melt the coconut oil and let come to room temperature
In the bowl of a standing mixer or a large mixing bowl, beat together the banana, honey, brown sugar, coconut oil, and vanilla extract until smooth. Add the eggs (make sure they are room temperature or the coconut oil may re-solidify), then beat again until combined.
Sprinkle the cinnamon, baking soda, baking powder, and salt over the top of the batter, then mix to combine. Sprinkle in the flour, then mix on low speed, just until the flour disappears. By hand, fold in the zucchini and chocolate chips.
Scoop the batter into the prepared muffin cups, filling them 3/4 of the way. Bake for 20-25 minutes, until a toothpick inserted in the center comes out clean. Remove the muffins from the oven and place the pan on a wire rack. Let cool for 5 minutes in the pan, then carefully lift the muffins out of the pan and place them on a wire rack to cool completely (this will keep the muffins from becoming soggy).
Peppers
Spanish Quinoa Stuffed Peppers from https://minimalistbaker.com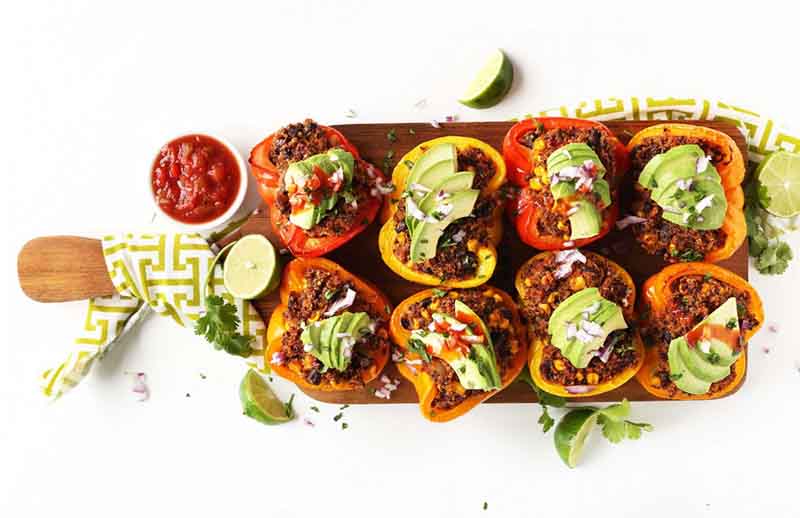 Ingredients
Peppers
1 cup quinoa or rice (thoroughly rinsed and drained)
2 scant cups vegetable stock (sub water, but it will be less flavorful)
4 large red, yellow, or orange bell peppers (halved, seeds removed)
1/2 cup salsa (plus more for serving)
1 Tbsp nutritional yeast (optional)
2 tsp cumin powder
1 1/2 tsp chili powder
1 1/2 tsp garlic powder
1 15-ounce can black beans (drained // if unsalted, add 1/4 tsp sea salt per can)
1 cup whole kernel corn (drained)
Toppings optional
1 ripe avocado (sliced)
Fresh lime juice
Hot sauce
Cilantro (chopped)
Diced red onion
Chipotle Red Salsa (or your favorite salsa)
Instructions
Add quinoa and vegetable stock to a saucepan and bring to a boil over high heat. Once boiling, reduce heat, cover, and simmer until all liquid is absorbed and quinoa is fluffy – about 20 minutes.
Preheat oven to 375 degrees F (190 C) and lightly grease a 9×13 baking dish or rimmed baking sheet.
Brush halved peppers with a neutral, high heat oil, such as avocado oil or refined coconut oil.
Add cooked quinoa to a large mixing bowl and add remaining ingredients – salsa through corn. Mix to thoroughly combine then taste and adjust seasonings accordingly, adding salt, pepper, or more spices as desired.
Generously stuff halved peppers with quinoa mixture until all peppers are full, then cover the dish with foil.
Bake for 30 minutes covered. Then remove foil, increase heat to 400 degrees F (204 C), and bake for another 15-20 minutes, or until peppers are soft and slightly golden brown. For softer peppers, bake 5-10 minutes more.
Serve with desired toppings (listed above) or as is. Best when fresh, though leftovers keep covered in the refrigerator for 2-3 days. Reheat in a 350-degree F (176 C) oven until warmed through – about 20 minutes.
Not growing this Summer you say? You probably have plenty of room to plant a Fall garden then! If you're a schoolyard garden coordinator and you'd like tips for planning out your Fall garden, join us at the Schoolyard Garden Workshop happening Tuesday, August 6th from 3:00-4:30pm by RSVPing here.
Happy Gardening Everyone!