The most exciting week of the Kansas City gardening season is upon us! Below is a complete guide of everything you need to know about what's in store at Tomato Days 2023.
DATES AND TIMES
This year's sale will begin on April 27th for GREEN CARD MEMBERS only. We will serve ALL MEMBERS on April 28th. We will be open both days at 9am and will be closing an hour earlier than usual at 4pm to allow staff to restock for the next day. We will be open on Saturday, April 29th from 9am-12pm.
If you can't make it out to one of the opening days of the sale, don't worry! We will continue to sell warm season plants during our regular office hours (M-F 9am-5pm) for several weeks, until all of the stock from our greenhouse runs out. We offer extended hours on Tuesday evenings (until 6:30 pm) through May 23rdand Saturdays (9am-12pm) through May 6th.
We will hold a satellite sale at the Jersey Creek Community Garden in KCK (11thand Parallel Parkway) on Monday, May 1 from 5-6pm.
BECOME A MEMBER
If you haven't done so yet, you'll need to sign up or renew your membership first. This can be done online by clicking here or in person. If you plan on doing it in person, on the 27th, 28th or 29th, please make sure to stop in the office building to complete your membership before you begin shopping for plants outside.
Your annual membership includes 10 free packs of seeds, a free bag of fertilizer, and the best prices in town on plants and supplies! See the map below for locations to sign up for memberships and shop for seeds.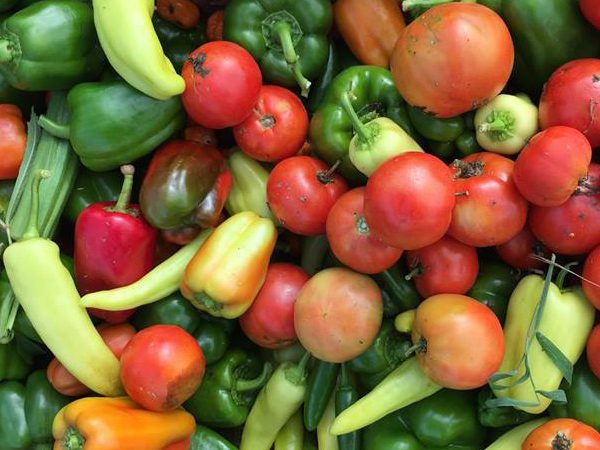 PLANT VARIETIES
Warm season plants sale includes tomatoes, peppers, and eggplant. To view the varieties for the vegetable transplants, click here.
Warm season herbs will also be available. To view all of our herb varieties, click here.
SHOP FOR MORE
We will also have seeds and supplies for sale such as straw, compost, pesticides, and tools. Seeds and pesticides will be located in the retail section of our front office. Straw, fertilizer, and compost will be available in the main parking lot. If you would like to purchase tools, please ask a staff member in our front office to assist you.
To view our warm season seeds, click here.
To view the list supplies available and pricing, click here.
Please Note: We will not have tomato cages available until later in May.
PLANT LIMITS
Below are plant, seed, and supply limits:
Vegetable plants come in three pack and limits for these are 30 (10 three-packs).
Herbs are sold individually and the limit is 2 of each variety.
PRICING
Vegetable Transplants (per 3-pack): Green Card = $0.50, Yellow Card = $1.00, Blue Card members = $1.50 .
Herb Transplants: Green Card = $0.50/each, Yellow Card = $1.00/each, Blue Card = $1.50/each.
BYOB
(Bring Your Own Box)
Help us promote sustainability by bringing your own box or container to carry your plants and seeds.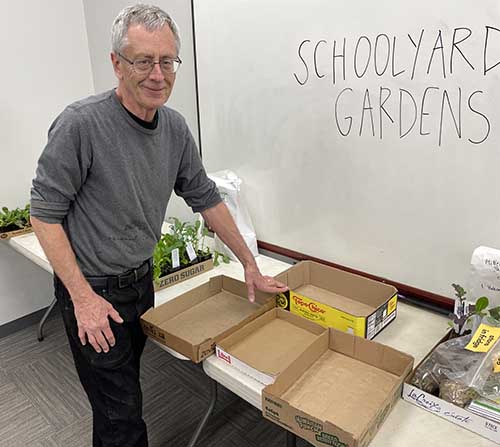 PARKING
Parking in the main lot is reserved for those that need accessible parking. If you do not need accessible parking, please park along Kensington Avenue.
Below is a map for parking and locations to sign up for memberships, get seeds and plants, and to check out.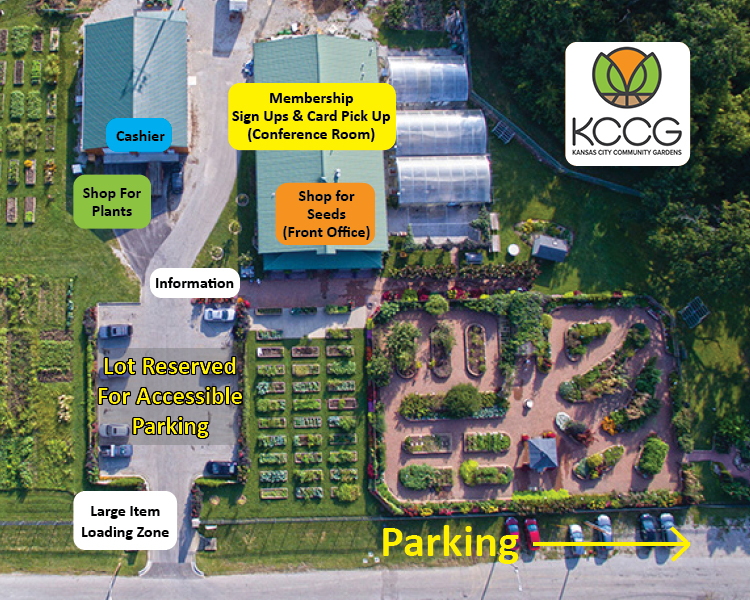 Tomato Days 2023 Brought To You By
The NFL & Lowe's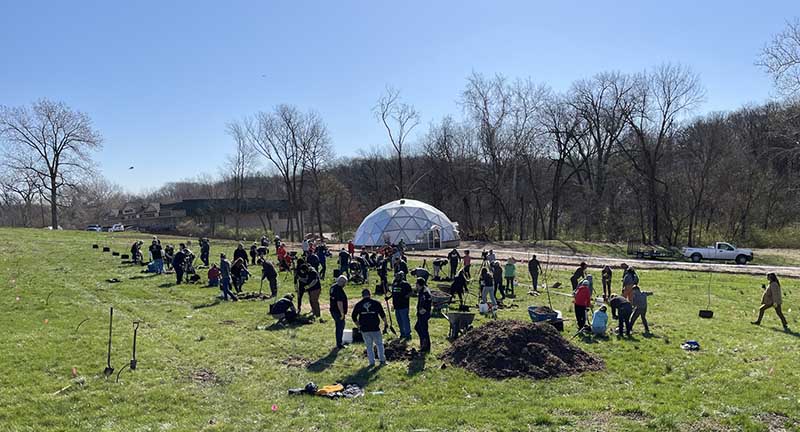 Volunteers planting fruit trees at Mimi's Pantry to kick off community greening projects around the NFL Draft.
Our team at KCCG is just as excited as the rest of Kansas City about the fact that the NFL Draft is coming to town! And we're even more excited to share that this year's Tomato Days events are being sponsored by the NFL and Lowe's! When you arrive for the sale, you'll notice some major improvements to our Beanstalk Children's Garden – including a new shed and fence, made possible by the NFL and Lowe's. Green Card members visiting the sale on Thursday will be welcomed by NFL and Lowe's reps, and find a few special surprises in store.
KCCG has also been proud to team up with NFL Green on two other community greening projects, scheduled around the draft. On April 7th, volunteers from NFL Green, Verizon and the Kansas City Chiefs joined KCCG and community volunteers to plant a 50-tree orchard at Mimi's Pantry in the Northland. On Wednesday, April 26th, we'll be working together to construct a new garden at Central Middle School in KCMO. We are so grateful to these wonderful partners for their support, as we work together to bring healthy food to more people in Kansas City!