This story was contributed by Martha Walker, retired newspaper and United Press International wire service reporter who also worked 22 years in corporate communications and market research.
---
In a word – "awesome" describes the experiences their Sensory Garden affords preschoolers at Kansas City's Children's Center for the Visually Impaired.
Here they experience the joy of harvesting a dirt-crusted sweet potato just pulled out of the ground; the size and texture of a giant sunflower with more seeds than they can count; a pan of plump, round tomatoes to chop into salsa; the smell of mint and dill; the caterpillars that turn into butterflies and the bunnies that visit their garden too.
The recent October sweet potato harvest marked the third successful growing season for CCVI in the two large schoolyard garden raised beds of the Center Campus's Sensory Garden, and its three-year partnership with Kansas City Community Gardens. The Sensory Garden produces an array of plants that intrigue kids who are blind and visually impaired – perennial flowers, herbs and vegetables, including tomatoes, lunchbox peppers, 100 pounds of sweet potatoes and more from seeds and seedlings.
"Kansas City Community Gardens helps us determine what's best to plant in our beds, what goes where and how close together plants can be, how to care for the growing plants and to plan when we can harvest," explained Elizabeth Mayer, CCVI support services manager largely responsible for organizing the garden project. "We're not gardening experts. KCCG helps us plan out the beds in the winter, acquire seeds and seedlings, plant and sustain the beds."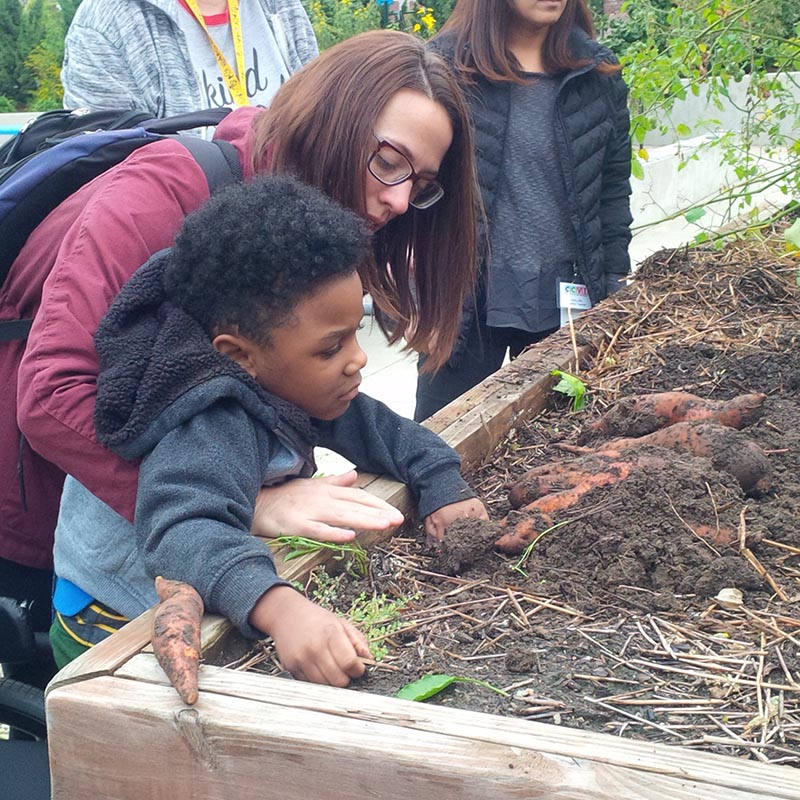 Kindergarten teacher Sarah Smith said her 4-, 5-, and 6-year-olds take real ownership in caring for the garden beds.
"They enjoy any time we can be up there to check on the garden," Smith said. "They help dig, plant, pull weeds, harvest vegetables, cook and we make homemade salsa they love. They experience the whole cycle. I hear 'awesome,' 'oh wow, look how big this one is,' 'feel how heavy this one is.' We learn in the classroom and then they get to go out and experience applying what they've learned."
For the CCVI kids, the whole garden area with a grassy plot, retaining walls, bricks, pavers and railroad ties helps the blind and low-sight preschoolers learn what they'll experience in the world outside their familiar garden. "The Sensory Garden helps our kids become more and more comfortable outside," Smith said.
The Children's Center Campus Sensory Garden was created when the Kansas City streetcar Constructors offered to build a project to benefit the community while they were working in Kansas City. CCVI, on behalf of the Children's Center Campus, proposed the garden on their vacant lot adjacent to the school.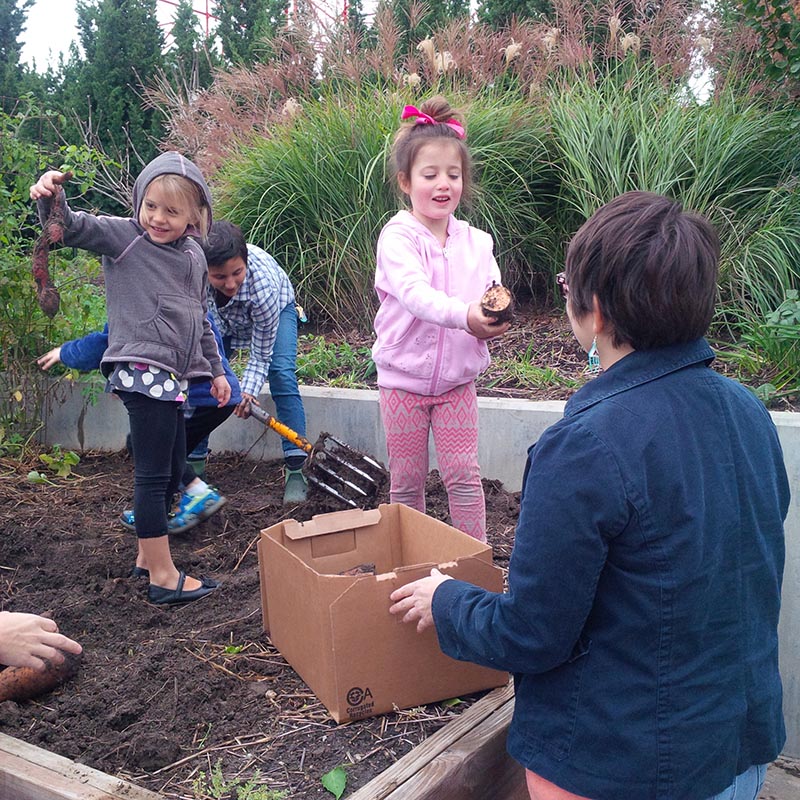 They then partnered with Kansas City Community Gardens to sustain the garden and to brainstorm new possibilities each year – maybe a water feature in the future, or maybe a pumpkin patch.
Children's Center for the Visually Impaired prepares children with visual impairments, including those with multiple disabilities, to reach their highest potential in the sighted world. Since opening doors in 1952, CCVI has served more than 10,000 children who are blind or visually impaired and their families. The early intervention program serves children birth to age three; preschool serves children ages two to six.
Learn more about Children's Center for the Visually Impaired at ccvi.org.