On November 5th, KCCG held its annual Volunteer Appreciation Luncheon to honor the volunteers who made 2021 another successful year.
This year we wanted to focus our appreciation on those volunteers that have been a part of our organization's family for a long time. Many of them have been with us as we have grown a lot in the last 5-10 years, helping us reach out further to help families, schools, and community organizations grow food. Even during these last couple of rough years, their dedication to our mission has not changed at all.
Back in 2019, before the pandemic hit, KCCG was blessed to have over 4800 volunteer hours dedicated to our organization. In 2020, that number was 1400, and this year, as things started to improve, we have had over 2200 hours of volunteer support. Even as the amount of volunteer assistance to most of our programs decreased due to the pandemic limitations of the last couple of years, the support of our core group of volunteers remained the same with our crucial on-site activities.
Since October of last year, they dedicate almost the same amount of time helping us (810 hours) as they did during that same timeframe before the pandemic (850 hours).
We honestly cannot thank them enough for all of the help they provide every year, and how happy it makes us see them here gardening or just to chat and be part of our day-to-day lives.
Thank you, volunteers!!
Below are this year's honorees for each of KCCG's programs.
Brenda Holbrook
Beanstalk Children's Garden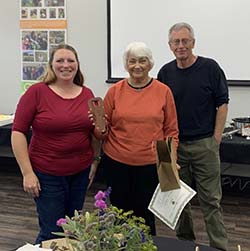 Brenda has been volunteering with the Beanstalk Children's Garden since 2006. As a University of Missouri Extension Master Gardener, she brings her experience and love of gardening to work with her every single Tuesday and Thursday morning. There isn't a job in the garden Brenda is hesitant to do. She is happy to run the leaf blower, pull weeds, deadhead, or even jump in to lead a tour – whatever is needed in the Beanstalk, Brenda is happy to lean a hand. Some days, she even brings her own weed eater with her to do some trimming! Brenda is a wealth of knowledge and a welcoming presence. Her love for gardening, and especially gardening in the Beanstalk, is evident by her dedication and dependability!
Henry Michaels
Individual & Family Gardens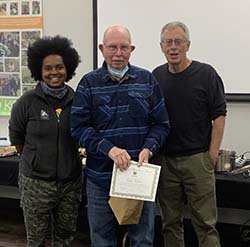 Henry Michaels has been volunteering at KCCG for over a decade. He has a passion for gardening and has shared his passion by volunteering for various tasks at KCCG. Some of these (many) include seed packing and labeling, dividing and packing fruit orders, packing garlic orders, and a variety of other tasks associated with greenhouse production. Henry is dependable to show up every Tuesday and Thursday starting from November – July. In addition to his support for gardening, he is also a terrific gardener himself - this year he grew the biggest cabbage at our community garden, weighing approximately 20 lbs. It is our honor and joy to recognize Henry with this year's Individual and Family Gardens Volunteer Award.
Meghan & James Throckmorton
Schoolyard Gardens
Megan and James Throckmorton manage the 12 raised beds at Hale Cook Elementary. They involve the garden club in the entire gardening process by encouraging the students to pick out which vegetables they want to grow in their garden. They lead lessons about how to plant, water, and harvest vegetables. In the past, they celebrated the garden's harvest by making homemade salsa with the students and hosted a blind taste test with the families at one of Hale Cook's picnics. When COVID hit the Throckmorton's did not slow down. They continued to plant through the spring, summer, and fall season, organized workdays and invited Hale Cook families and neighbors to help out with watering and harvesting the gardens. They also started a Hale Cook garden club on Facebook sending video updates of the garden's growth and included fun at home garden lesson tutorials for students that were not able to make it to the gardens.
The Schoolyard Garden team is grateful for SYG volunteers like Megan and James and want to say, "Thank You" for all the extra time and dedication they have given to the Hale Cook Elementary Schoolyard Garden.
Julie Foster & Vicky Kuhn
Community Partner Gardens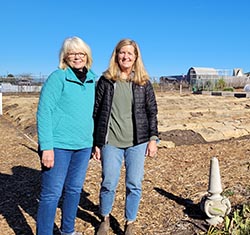 Established in 2012, God's Community Garden at Colonial Presbyterian Church sits on about an acre of land in Overland Park, KS. Julie Foster and Vicky Kuhn have been dedicated to the garden's mission from the very beginning, and go above and beyond to connect people through gardening year after year. Julie coordinates the large donation plot area, where she and her devoted volunteers grew over 20,000 pounds of produce last season to donate to local food pantries. Vicky manages the 99 rental plots (56 raised beds and 43 ground plots) that they rent out to 72 community members to grow their own food. Vicky explains, "each individual gardener brings their unique skills to contribute to the garden, whether it's irrigation knowledge, a passion to encourage garden education, or on-site activities for the kids. What makes us thrive is that Julie works harder than anyone, and it's contagious and makes us all work hard." KCCG is so grateful for Julie and Vicky's hard work and we are so proud to partner with them each year!
Nancy Chapman, Terry Sinclair, & Lori Saving
Giving Grove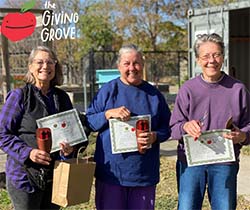 Nancy Chapman, Terry Sinclair, and Lori Saving manage the MLM Spring Valley Orchard in the Boston Heights neighborhood off 29th and Highland. They have connected many different schools, churches, and community groups to the orchard through volunteer and educational events. This orchard consists of over 80 trees and is one of the oldest Giving Grove orchards. They also have a community garden there that they care for with several raised and in-ground beds. The food from this sustainable urban orchard feeds the neighborhood and is strengthening relationships amongst the neighbors.   Produce from this orchard has also been delivered to several pantries around the community, including the MLM food pantry. Thank you, Nancy, Terry, and Lori, for providing healthy food to our community and caring for this monster of an orchard.  You have done incredible work!
Sally Cobb
Volunteer of the Year
Sally is the kind of volunteer who doesn't just jump in to do anything that's needed, she anticipates what's needed before she's even asked. From jumping in at a customer service window to taking t-shirt inventory to take out the kitchen trash, she has a knack for seeing what needs to be done and making things happen.
She also has a gift for making stressful days at KCCG go by more easily – from Tomato Day to Gardens at Sunset and Fall Family Festival, she's one of the first people in the door for the day, and usually with home-baked treats in hand.
In 2020, she had the unusual honor of being the first volunteer to chair KCCG's gala in the middle of a pandemic. In a year when many people pulled back, Sally was as tireless and unflappable as always. With a lighter than usual team, she helped us reimagine a hybrid virtual and socially-distanced live event and set new fundraising records, helping KCCG to close its year on a strong financial note.
Perhaps more than anything, Sally's incredible helpfulness, "do anything" attitude, quick wit and warm graciousness have kept our staff sane through a couple of challenging years. We can't imagine KCCG without her! That is why we are more than honored and delighted to recognize her as this year's KCCG Volunteer of the Year.
Sally, we can't thank you enough for your wonderful support over these last few years (as well as for the delicious treats and beautiful flowers!). Thank you!!