This week's Schoolyard Gardens school spotlight is Tomahawk Elementary, located in Overland Park, KS. Fifth grade teacher, April Cremer does a wonderful job incorporating the garden into math and science lessons as well as teaching important hands-on skills such as cooking.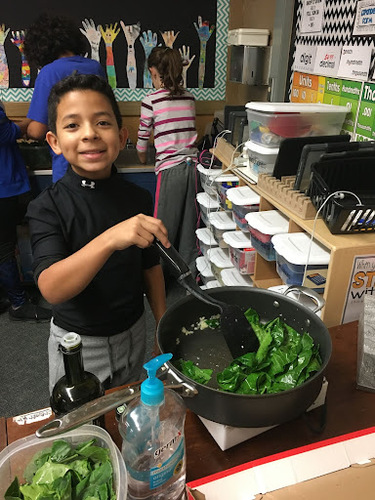 I asked April what her experience has been like teaching from the garden and this is what she said.
Each new school year brings opportunities for students to grow. In my classroom, growth is a mindset, growth is measured academically and physically, but also we grow a garden. For the past 8 years, I have partnered with KCCG to create a school garden. By using this great community resource, the garden has grown to be an extension of my classroom. The garden provides a hands-on opportunity for students to learn a variety of skills. On the first days of school, we are in the garden planting! Together we plant the seeds, water, and watch our plants grow, just as we will. This first activity builds ownership of the garden and a classroom community.
As the plants grow throughout the seasons, we are able to harvest fresh fruits and vegetables! For the first time, many students are eating fresh vegetables right from the garden. But the learning does not stop there, we apply our reading and math skills by cooking. We often prepare our food and create beautiful salads, salsa, tomato soup, and more.
When I ask 5th graders to reflect on their year, they always say their favorite part was the garden! A former student shared, "When looking back on fifth grade, cooking and gardening influenced me as a student because it taught me the information while keeping me fully engaged and excited about learning it. The cooking and gardening unit was one of the first times I actually looked forward to learning about something in school." The garden is not just one unit in my classroom, it is an ongoing project that lasts throughout the whole school year. It allows students to work together, learn life skills, and try new things, all while helping their confidence and academic skills grow.
-April Cremer, 5th Grade Teacher, Tomahawk Elementary in Overland Park, KS
Our favorite Kale Salad Recipe:
⅓ cup freshly squeezed lemon juice
1 teaspoon Kosher salt
1 ½ cups extra-virgin olive oil
4 cloves garlic, crushed flat with the side of the knife, peeled and left whole
10-12 oz of Kale, washed dried and stems removed (weigh after trimming)
1 ½ cups freshly grated parmesan cheese
Croutons
In a bowl, combine lemon juice and 1 heaping teaspoon salt. Slowly whisk in olive oil. Add garlic cloves and set aside to steep.
Working in batches, massage the kale, then cut the kale into thin ribbons: gather a large handful of leaves, bunch them together tightly, and use the other hand to slice into 1/4-inch-thick pieces. This need not be done very precisely or neatly; the idea is to end up with a kind of slaw. (Recipe can be made up to this point 1 day ahead. Keep kale and dressing refrigerated separately.)
Place chopped kale in a very large bowl. Sprinkle the surface with cheese. Remove and discard garlic cloves from the dressing. Pour half the dressing over the salad and toss. Taste for dressing and salt and add more as needed, tossing to coat thoroughly. Serve within 1 hour.
Adapted from NYT Cooking: Julia Moskin
Thank you April for seeing the benefits of getting students outside, learning, and everything you do for the gardens at Tomahawk Elementary!