At the beginning of the growing season and when COVID-19 emerged as a critical concern to the country, many people were unsure what the next few months would bring.
As a surge of new and recurring members looked to our organization for access to healthy food, and to mentally and emotionally cope with the uncertain reality ahead, KCCG staff and volunteers faced this big challenge with determination.
Thanks to our amazing volunteers, we packaged 47,400+ seed envelopes and seeded 140,000+ transplants in 2020 for those looking to gardening as a new or recurring healthy activity in their household.
Volunteers have also continued to help our partnering schools, orchards, and community gardens. Our fantastic community partners thrive through volunteers' selfless dedication, making it possible for them to provide for those in need during a time where the need is the greatest.
Our volunteers have also been an amazing source of support for our Beanstalk Children's Garden, which made it possible for hundreds of children to have a safe outdoor space to enjoy and learn about the wonder of gardening and nature.
Financial insecurity has also been a huge issue for many this year. Our ability to provide gardening resources at low cost would have not been possible without our volunteers' dedicated help to our fundraising efforts during events like Gardens at Sunset.
KCCG volunteers are and have always been an intrinsic part of our organization. Each one of us at KCCG recognizes this and we can't thank our volunteers enough for the crucial role they play. We believe that this year has proven that KCCG is as resilient as Bermuda Grass and was able to overcome many challenges to continue to provide our service to the community. However, none of this would have been possible without our volunteers. So to all of you, thank you from the bottom of our hearts!
KCCG's Volunteers of the Year
Volunteer of the Year
Roger Shelton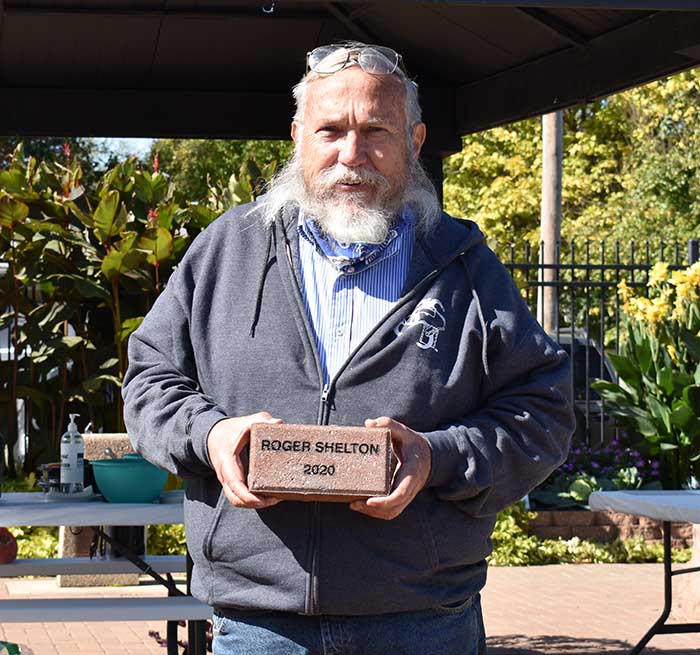 Roger has been a member of KCCG since early 2016.  Since then, Roger has become one of the most devoted volunteers that KCCG has been blessed with. One way to show Roger's dedication to our organization is through the sheer amount of time he has volunteered with us.  He has spent more than 550 volunteer hours (that we know of!) helping us pack and plant thousands of seeds and starter plants, maintaining our beautiful Beanstalk Children's Garden, preparing mailers and Seeder's Digests, and a countless many other things at our main office. This makes Roger the biggest contributor of volunteer hours at our organization during the last five years, and the biggest individual contributor of hours of every year, since 2016.
In addition to how many hours Roger has volunteered, we would be remiss not to highlight his amazing gardening skills and kind spirit.  Roger never knew what his calling in life was until he turned 70 and started gardening. Just like he helps our organization every year, Roger's helps others with his bountiful harvests. He donated over 1300 lbs. of food last year and is hoping to do 1,400 lbs this year and help over 145 people in the process.
Roger, we are truly blessed to have you in our organization and cannot thank you enough for all you have done for us and our community. So, it is no wonder and a great honor to award Roger this year's Volunteer of the Year for Kansas City Community Gardens.  You embody that which KCCG strives to achieve through our mission and we hope that you and your wonderful family continue to support and grow with us for many more years to come.
Beanstalk Children's Garden
Brenda Holbrook

Each spring and summer, Brenda helps plant and care for the garden.  Brenda can be counted on rain or shine to do anything from eradicating weeds and watering the garden to leading tours.  As one of the original tour leaders, her love of the garden in obvious as children delight in their experience with her.
Over the years, Brenda's role in the Beanstalk has increased.  We depend on her experience and strong dislike of garlic chives to see us through each year.
As interest in gardening continues to grow and KCCG responds to the growing needs of our community, it is important to recognize and honor the people that contribute so much to our organization.
In Brenda's words, "I always enjoy coming to work in the garden, the work is often hard, but we have fun in the way we do it. Working outdoors is a pleasure, and I get to connect with a variety of people. It is an enjoyable activity with a worthwhile purpose! The concept of "community" really has meaning in this place."
Thank you, Brenda, for being an ambassador for the Beanstalk Children's Garden.  Congratulations on being chosen for Volunteer of the Year for the Beanstalk Children's Garden for 2020!
Individual & Family Gardening
Mickie Sandman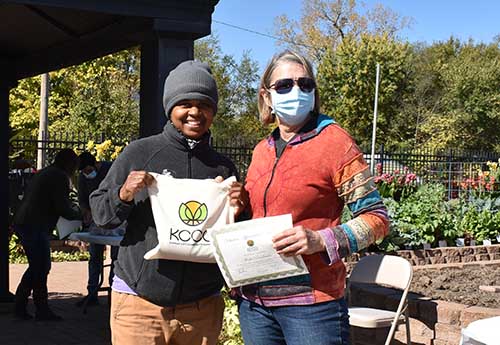 Mickie Sandman has been a dedicated volunteer for many years. She has devoted her time and energy ensuring that each project that enlists her help is seen to completion. Projects include weighing and packaging garlic, bundling fruit orders, helping with Gardens at Sunset, labeling and packaging seed envelopes, counting and planting sweet potato slip, and planting canna bulbs.
Mickie is most known for her role in labeling, seeding, and thinning plants throughout the growing season. Mickie has a vast knowledge of gardening and is always willing to share her knowledge and experience throughout her community. It is our honor and privilege to shine the spotlight on Mickie Sandman as the Individual & Family Gardens volunteer of the year.
Development
Sally Cobb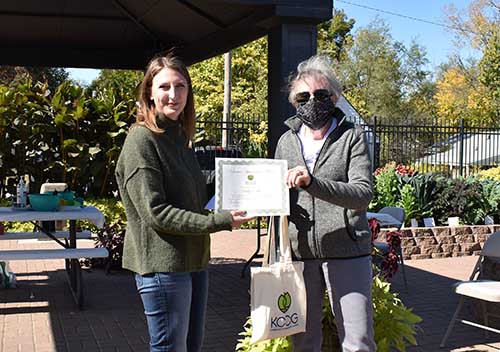 If KCCG gave an award for "most versatile" volunteer, Sally Cobb would be first in line to receive it. Sally has been an invaluable part of the KCCG team for several years, helping to package seeds, assisting customers in our front office, jumping in to help on busy plant sale days and even gifting colorful bouquets of home-grown flowers to brighten the KCCG office.
This year, she stepped up to serve as the chair for Gardens at Sunset, our annual fundraising gala. Sally's determination and "can do" attitude proved invaluable as we navigated the many challenges and unknowns of planning an event in the midst of the COVID pandemic. Sally worked tirelessly to secure sponsorship and raffle items and work through the many (many) details that went into remaking the event to be safe and successful in 2020. At the end of the day, her hard work yielded great results – Gardens at Sunset set a new fundraising record, bringing in more funding to support KCCG's work than ever before.
We are grateful to have Sally as a part of our KCCG family and celebrate her as our Development Department Volunteer of the Year!
The Giving Grove
Fred Burns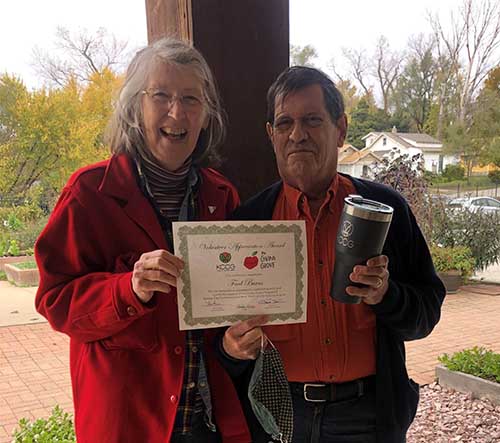 The Giving Grove started working with Fred Burns, the co-proprietor, with spouse Kay, of The Asylum-The Home for Fruits and Nuts, in the spring of 2014 with a planting of 7 fruit trees. Since that planting on one lot, the orchard has come to comprise over 200 fruit trees, nut trees, and fruiting shrubs on over an acre of formerly abandoned land. An orchard this size takes the many hands of friends, neighbors, and community volunteers, which can be a job just to coordinate.
When fruits are ready for harvest Fred notifies his neighbors in Blue Hills and puts out a 'Fruit is Ripe' sign for all passers-by. Un-harvested produce goes to a local church in Blue Hills and gets gleaned by After the Harvest. Fred's passion and sense of community has turned this corner of the metro into an edible urban oasis. Thank you to Fred Burns, The Giving Grove Volunteer of the Year!
Community Partner Gardens
Lori Saving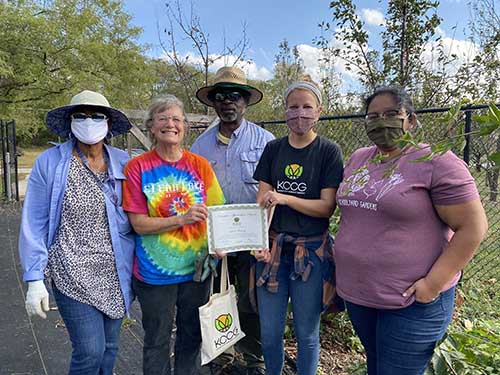 The Community Partner Garden (CPG) team awards the 2020 CPG Volunteer of the Year to Lori Saving, a dedicated volunteer at the Metro Lutheran Ministry Spring Valley Community Garden, located at 29th and Highland in KCMO:
Metro Lutheran Ministry (MLM) Spring Valley Community Garden started in 2013 in partnership with KC Parks and Recreation and Kansas City Community Gardens. The mission of the garden is to engage neighbors in the Boston Heights / Mt. Hope Neighborhood, by providing free gardening space to families and donating produce to neighbors. The garden currently has 22 raised beds and 20 neighbors and volunteers engaged at the garden.
Lori Saving is one of those long-standing, dedicated volunteers at the MLM Spring Valley Community Garden. According to Marcus Leach, staff member at MLM and the primary coordinator for the community garden, "Lori is the living embodiment of leadership through service. She has become a well-known and loved figure in the Boston Heights and Mount Hope neighborhood our community garden serves. When the COVID-19 pandemic started, we weren't sure how it would affect our community garden. Lori stepped up to the plate and continued to bring neighbors and volunteers together. She helped grow our community through difficult times. Our numbers are up across the board this year: more beds, more gardeners, more volunteers, more food for hungry families. Lori has been the driving force behind it all. She brings people together, teaches, grows and helps others. She is a blessing to our community garden. She has been there for people in all aspects from teaching our children in the community how to grow food to caring for and maintaining beds for our sick and elderly neighbors. She finds solutions and is always willing to roll up her sleeves and get the job done."
MLM Executive Director Scott Cooper adds, "Volunteers are the backbone of nonprofits like MLM. Lori is the type of volunteer every organization dreams of having. She works hard, acts independently, makes great decisions, and supports the vision of MLM.  She does all this with a heartfelt passion to make a difference in the community. We and the community are blessed by Lori more than words can express."
Thank you, Lori! Kansas City Community Gardens greatly appreciates your dedication and passion and we are honored to recognize your outstanding leadership this year.
Schoolyard Gardens
Molly Gosnell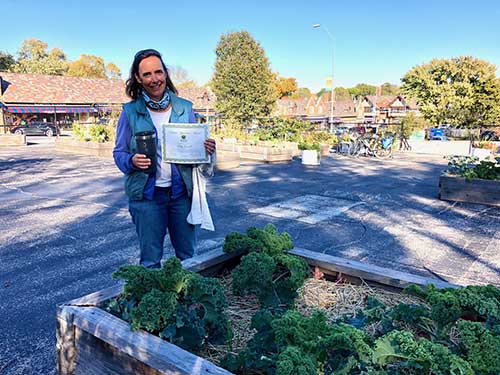 Border Star Montessori has over 25 raised beds in their garden.  All grades have a chance to participate in the gardening adventure— 3 year-olds through 6th graders help out in the garden. Classes utilize the outdoor garden space for special events, and many students enjoy walking through the garden on their way to the bus.
Molly got involved in the Border Star Garden when her oldest daughter started school there in 2009. In  2011 Molly became the main contact and has been leading the Border Star garden and bringing it to life since then! Border Star was one of the first schools to pilot SYG's Grow in the Garden – and that was because Molly got teachers to take advantage of this new SYG curriculum.   Molly also orchestrated the rebuild of the  whole  Border Star garden when it was falling apart (25 beds!) and found ways to involve families and the entire school in the construction.
While Molly's daughters have since grown up, Molly has continued to stay involved in the garden as a community member, inviting new families and teachers into the garden. Thanks for all you do and have done, Molly! We are grateful for you long time leadership at Border Star's Schoolyard Garden!