Having a schoolyard garden means that you're already a wonderful steward of the earth. Take a minute to give yourself a pat on the back, because in a way, you celebrate the earth every time you visit your garden!
In honor of the official Earth Day, we'd like  to share a few other ways you, your students and their families can celebrate mother earth.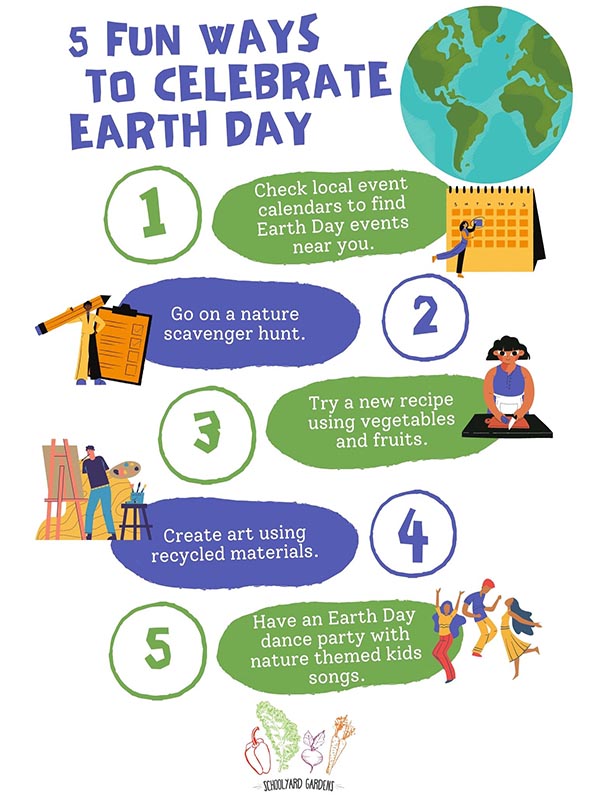 To expand on these 5 fun ways to celebrate, check out the links below –
1.) Check local event calendars to find Earth Day events near you.
2.) Go on a Nature Scavenger Hunt – Create your own or use our Take a Walk and Explore Your World lesson plan.
3.) Try a new recipe using vegetables and fruits. I have listed a few of our favorite SYG spring garden recipes below and you can find our full list here.
If a recipe isn't in the cards for you this spring, try our Taste Test Evaluation Activity instead. This is a fun way to get students trying veggies right there in the garden and it doesn't require any additional ingredients! If you do this activity, please be sure to snap a photo of the results and send it to your SYG coordinator.
4.) Create art using recycled materials.
5.) Have an Earth Day Dance Party with some of our favorite nature themed kids songs –
Happy Earth Day everyone!